On Thu, 30 May 2013 21:30:51 -0700, DD_BobK wrote:

Know thine enemy, and know thyself, and in a hundred battles, you will prevail (Sun Tzu).
I am trying to eradicate three enemy combatant species which have taken over acres of chaparral in my control, namely: 1. Scotch Broom <== foreign invader 2. Spanish Broom <== foreign invader 3. Poison Oak <== native irritant
Those fast-growing invaders from the Mediterranean islands quickly crowd out the native inhabitants, even to the point of photosynthesizing from their very stems, so as to suck the life-giving supplies from the mouths of the native plants that actually feed the native animals.
The strengths of these nitrogen fixers is that they can grow where no other plants can; and that they sow seeds which last for 60 years, a percentage growing every year.
The weakness of the Scotch Broom is a relatively meager supply line, via a single tap root, which holds tenaciously in the summer months, but which yields like cutting warmed butter in the wetness of the winter rains.
So, every winter, I spend a few hours blissfully hunting Scotch Broom, destroying entire regiments of the stuff, leaving the wounded to die & decay where they lie on the slippery mud-soaked slopes (war is mud, after all).
Each spring, the lower-hugging guerrilla Spanish Broom, which is much harder to flush out, even in the winter rains, shows its true colors by blossoming a sweet yellow, which removes all vestiges of camouflage. I've learned that to mow them down is merely to invite a rebirth from the stumps, so, the approach is to methodically cut and spray with chemical warfare (glyphosate), within 5 minutes of the dismembering. This, and only this, prevents the roots from springing forth anew, to attack my sunlit hillsides.
The most formidable enemy is the native Poison Oak, which fortresses in almost impenetrable thickets of wrist-thick vines, covering every direction. For these, I carefully cut a swatch through the minefield, taking extreme care not to become contaminated too badly, although casualties are inevitable. At times, I use the chainsaw, in sheer determined all-out frontal attacks; but most of the time I stealthily tunnel to the commanding root, which is always at least four or five inches thick, to kill the command and control center, at its very core.
Note: Those who say you can spray glyphosate on poison oak have no idea what they're up against, as this enemy is so deeply entrenched on a hillside that napalm itself wouldn't flush it all out, in a week of spraying from helicopters. No. Only a determined single-minded attack on the core supply line will work, sort of like what the Persons attempted at the battle north of Plateae before the Greeks retreated and regrouped at Plateae, for the battle that arguably saved the Western civilized world from utter destruction.
And, so goes my battle with the foreign and native invaders, who are forever attempting to take over my sun drenched hillsides.

On 5/31/2013 11:10 AM, Danny D wrote:

removing groundcover sometimes leads to massive erosion problems.

posted on May 31, 2013, 11:08 pm
On Fri, 31 May 2013 12:47:17 -0700, chaniarts wrote:

Bummer that nobody brought this up until now.
If that's the case, I perhaps should have followed this suggestion: "bundle the pulled plants to create 8- to 12-inch wattles that can besecured to slopes to prevent erosion." http://www.cal-ipc.org/ip/management/wwh/pdf/19633.pdf
Paradoxically, these pests were originally planted to *prevent* erosion: http://extension.oregonstate.edu/catalog/pdf/pnw/pnw103.pdf
Unfortunately, all parts of the plant are poisonous: http://wiki.bugwood.org/Cytisus_scoparius
And, the CDFA says they're a Class C pest, which means they're: "troublesome, aggressive, intrusive, detrimental, or destructive ...and difficult to control or eradicate." http://californiarangeland.ucdavis.edu/Publications%20pdf/8049%20Brooms%20in%20Calif.pdf
Here is how I removed the scotch broom in the winter season:
1. The task was to weed about an acre of these weeds:
2. I first got below the weed on the hillside & grasped low:
3. Then I pulled DOWNWARD with all my strength, always downhill:
4. With the ground saturated by rain, the weeds came out:
5. As predicted, the Spanish Broom was the hardest to pull:
6. Some of the plant roots were as thick as a fat thumb:
7. However most of the thousand of plants pulled had thin roots:
8. And now the muddy hillside is devoid of the weed plants:

posted on June 1, 2013, 2:26 am

davis.edu/Publications%20pdf/8049%20Broo...

ush.com/photo/a/11912157/img/11912157.jpg

icturepush.com/photo/a/11912158/img/11912158.jpg

w1.picturepush.com/photo/a/11912159/img/11912159.jpg

urepush.com/photo/a/11912160/img/11912160.jpg

cturepush.com/photo/a/11912161/img/11912161.jpg

repush.com/photo/a/11912162/img/11912162.jpg

w5.picturepush.com/photo/a/11912163/img/11912163.jpg

cturepush.com/photo/a/11912164/img/11912164.jpg

The real bummer? In all your OCD-ness.... you often miss the forest. :( It's really too bad that accounting training & experience translates so poorly to other endeavors. :(
My apologies if I missed the rational that motivated messing with plants that generated all this debris.... seems like a grout scraping activity.

posted on May 29, 2013, 6:32 pm
On Wed, 29 May 2013 11:22:39 -0700, Oren wrote:

Hmmm... maybe.
Or a vineyard.

posted on May 28, 2013, 6:46 pm

Obviously that is your case. However most people can learn to pick up a few sticks and move them at the same time they are just doing it.
Nevertheless, as some point out, your posts are a hoot. Great for a laugh and to make most of us very glad that we aren't you.
Now, try to figure out how to make some trusses for your tool shed.

posted on May 28, 2013, 7:20 pm
Isn't it great when you have someone to ridicule? Makes it so easy to forget your own shortcomings.
posted on May 28, 2013, 7:55 pm
On Tue, 28 May 2013 18:46:34 +0000, JoeBro wrote:

I was hoping for a better way.
In fact, I'm praying for a better way, because I still have about a hundred linear feet of slop to clear where the roadway is UPHILL fifty feet ... which has to be done this week.
I'm thinking of just throwing the darn things uphill but then they'll clutter the roadway and be a hazard.

posted on May 28, 2013, 7:51 pm
On Tue, 28 May 2013 08:52:49 -0700, Oren wrote:

It's gonna match the architecture of the house!

posted on May 28, 2013, 8:36 pm
On Tue, 28 May 2013 13:15:27 -0700, Oren wrote:

A man cave?

posted on May 28, 2013, 8:59 pm
wrote:


http://www.youtube.com/watch?v=lQPGJSIq3ys


posted on May 28, 2013, 9:19 pm

Well, you wanted a *real* man cave...

posted on May 29, 2013, 5:30 pm
On Sun, 26 May 2013 19:37:12 +0000, Danny D wrote:
To recap the thread, the suggested tool that worked the best in my downhill situation was the tarp.
The only thing left was to cull out all this frail stuff so as to protect the wood chippers from breathing poison oak: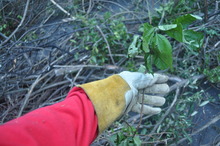 But, pulling out a few dozen vines out of a brush pile was a trivially easy task, and, was basically the gift wrapping for the wood chippers to make life just a bit safer for them: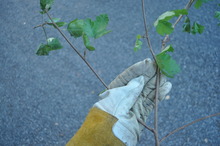 They were scheduled for yesterday, but, maybe they'll come today.
posted on May 31, 2013, 7:22 pm
On Sunday, May 26, 2013 3:37:12 PM UTC-4, Danny D wrote:

It's called a wheelbarrow.