On Sun, 02 Sep 2012 21:14:25 -0400, snipped-for-privacy@att.bizzzzzzzzzzzz wrote:
Yes. Most of the wood posts (but not all) have the exact huge hole drilled near the bottom that you're discussing.
See this photo taken this week at a one-car accident site on the same road.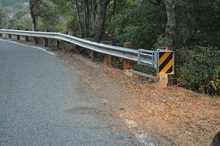 The wood posts on the ends (maybe the last four or so) have this huge hole; the rest of the wood posts (in the middle sections) don't seem to have this above-ground hole.
Notice how the wood broke the BMW's momentum.
My next-door neighbor's 19-year old had a brand new bimmer (only about 5K miles on the odometer). He thought he was a racer boy on all the curves. We're just glad nobody got hurt.
About a year ago, this racerboy knocked the mirror off my wife's car on a tight turn; but the parents wouldn't own up to it (the road barely can handle two vehicles passing in opposite directions). They asked the kid and he said he didn't do it. To keep neighborly bliss, we dropped the issue after mentioning it to the parents.
The kid told his dad he 'swerved' to avoid something in the road. Looking at these tire marks, and the lack of any skid marks, I'm guessing he simple was either going too fast or he was distracted. Notice the tire mark on the shoulder follows the road for about 15 feet before it smacks into the guardrail.
I'm not sure how fast he was going, but, that's a straightaway ... just after a sharp (270 degree) curve ... so I can't fathom HOW he hit the guardrail ... but hit it he did!