I would like freeware to convert a JPG photo into whatever format I need so that I can "arrange" pumps and pipes around in the drawing to determine an efficient setup (few elbows, no pipes running over pumps, etc.).
Have you ever done that process of arranging blocks in a photo?
Here's how I tried it (but maybe there is a better way)?
I started with this crude photo of the current pump setup: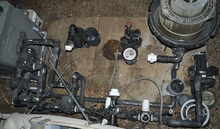 Here's a quick 1-step conversion to a pencil drawing with The GIMP: Filters->Edge Detect->Difference of Gaussians
Here's a quick conversion of the photo to vector format in Inkscape: Edit->Select All Path->Trace Bitmap->(o)Edge detection->Update->OK Inkscape saves a vector diagram, but I can't upload that SVG file; so I'll instead save as a PNG and upload that (but assume all lines are now vectors in the Inkscape SVG or DXF file):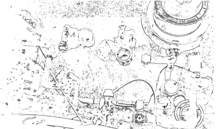 This takes seconds to do; so my question starts from here:
Given this conversion of the photo to either a pencil drawing or to a vector diagram - what freeware would you use to experimentally arrange pumps and plumbing to get an optimal fit?
Constraints: - As few elbows as possible - No pipes running over objects - Easy access to pump baskets & motors - etc.