If there was no trust, there would be no discussion on how to do DIY After all, if you didn't trust anyone else why bother learning from them And that is EXACTLY what occurs in low-trust societies
And yes, there is both risk and cost If you take the advse of someone who may not have good knowledge, you run the risk of having greater cost than if you had someone do it for you

What has that got to do with the price of tea in China Being high trust does not mean being stupid Even high trust societies need to and do, follow the rule "Trust but verify" That is very different from the rule "Do not trust unless...(insert restrictive criteria here", or even worse the rule "Do not trust, since everyone is in it for themselves.. and will screw you over if they can.." Which are both signs of low trust societies.


says...

One does not need to trust someone in order to learn from them. One does need to test their teachings though to separate out what works from what doesn't. It also helps to have multiple independent sources.


posted on May 17, 2013, 2:26 pm


Sure you do Otherwise why waste your time

So effectively, since you have to verify and test what they teach, you effectively admit there is no trust.
The presumption in a trust society, is that the experts are experts The presumption is a no-trust society is that no one knows dick See how that works.

maybe next time you should read EVERYTHING posted before responding

posted on May 17, 2013, 2:41 pm
On Fri, 17 May 2013 08:41:21 -0500, "Attila Iskander"

Wrong. What trust is there in taking advice on DIY? There is rarely anything to lose by DIY.

Nope. Do tradesmen pay you, in your universe?

Speaking of strawmen!

posted on May 18, 2013, 1:31 pm


Sure there is 1) Your time (Apparently you don't value yours. BUt others do) 2) Your money (for parts) that may end up wasted 3) Any additional costs you may incur if the advice is bad.

Again, denial is NOT a river in Africa And clearly you never encountered the term "Opportunity Cost" Do look it up You'll come across as less ignorant..

Maybe you should look up the term before you use it again. Just to avoid looking stupid

posted on May 18, 2013, 2:40 pm
On Sat, 18 May 2013 08:31:53 -0500, "Attila Iskander"

Certainly not the time I spend here, or watching TV, or similar endeavors.

It has nothing to do with any "advice" here. I'd *certainly* not risk any real money on any free advice.

See above.

Clearly your house is on its banks.

Red herring.

Again, wrong.

posted on May 19, 2013, 1:31 am


Maybe you don't For others it's actually time well spent I've learned a great deal on this group, both about home repair and other subjects There is also the entertainment value, which by the was IS value for time.

Again Maybe not you But others do come here for advice to save money I have saved money on advice that I have gotten here.

Indeed - see above
And remember that what applies to you does NOT automatically apply to everryone else. That's just you being stupid and narcisstic.

Poor baby You really should quite while you're ahead

Yes you are So glad that you can recognize what your true nature is.

Again Denial is not a river in Africa
Clearly, you have an ego problem on this issue So go ahead and salve it with the last word..
Dismissed.

posted on May 8, 2013, 1:59 am
wrote:
I don't see the problem, here. The guy is providing free tips for a forum on home repair to people who want to save money by doing things themselves instead of hiring pros. Why should he spend money on programs if he can use freebies?
Many for-pay software programs started out as freeware. Jasc's Paint Shop Pro was freeware. Jasc built up a following as freeware and sold out to Corel. Forte Agent was freeware, and still has a free version, but now charges for a better version. Adobe Photoshop and Elements were never freeware, but free versions of both programs were available as bundled software and free to the end user. Nero was free as bundled software. Open Office remains freeware. I use a Tinne's Desktop Calendar that was freeware for XP but is now $19.95 for Windows X. I paid the $19.95 because I liked using the freeware version. I could go on and on.
The software provider of freeware is usually offering the product as freeware to build up a following so they can later charge. It's marketing path.
If you can get freeware that does the job, why not?
--
Tony Cooper - Orlando FL


posted on May 13, 2013, 3:18 am
On Tue, 07 May 2013 21:59:19 -0400, Tony Cooper wrote:
UPDATE: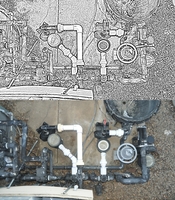 That's a picture of the final assembly where the combination goal was to repipe pool plumbing to both eliminate a leak at the two pump inlets and to (at the same time) make it easier to repair the pumps in the future - and (at the same time) to reduce the number of elbows in the system as there were far too many (all of which were bunched up too close together) and, at the same time, to eliminate any lines going over on top of the baskets (which made it hard to open the covers).
posted on May 13, 2013, 5:07 am