On Fri, 25 Jan 2013 05:56:39 +0000, Joe Mastroianni wrote:
I followed your advice and found shorter CFL bulbs.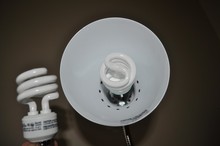 They have about half the light but they don't stick out anymore. And, those Halogen 75 Watt Par30 bulbs were blazing hot!
The CFL is almost cool to the touch so it's a good solution that fits the problem set without too many compromises.