On Tue, 25 Jun 2013 23:36:46 +0000, Danny D. wrote:
UPDATE:
I took one of the simplest routes possible; just to see if it would work.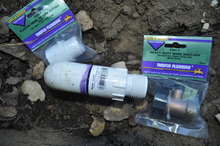 I glued a slip-to-MHT (male hose thread) directly onto the tubing friction fitting, using lots of the PVC solvent (since it was a loose fit, probably because God never intended me to glue a fitting on the outside of the tubing friction fitting):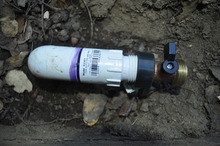 Mostly I did it this way because, if the tubing press fitting isn't actually made of PVC, and if it therefore fails, I'll just cut it all off and, by doing so, only lose one fitting in the test.
Interestingly, using normal PVC primer & glue, it
*seems*
to be holding up.
Note: Substitute "img" for "640" for larger photos.