On Fri, 28 Jun 2013 13:26:43 -0700, Oren wrote:

Well, I don't really know.
All I know, working backward, is that for "most" of the 300 foot run, there is a 1/2" and a 5/8" poly pipe feeding the oleander:
Every once in a while, you can see them both on the surface:
As those two poly tubes get within 30 or 40 feet of the irrigation valves, they suddenly pop up out of ground (I had put the garden hose connections on):
I didn't dig up the irrigation valve, so, I have no idea how it's hooked up, but, the 5/8" poly tubing which was broken at this point, appears to continue along the oleander until it gets near the irrigation valve. A foot away from the valve, it dives down, presumably to the valve (which works, and sends water through the broken tubing):
Note: I dug around for a half hour looking for where the 1/2" poly tubing connects to the irrigation system - and finally gave up on that endeavor. Also, I can't tell if there is a pressure regulator on the valve itself, as it might be buried, for all I know.
I guess I should pick up a pressure tester for garden equipment, to be sure.

On Wed, 26 Jun 2013 13:08:03 -0500, Natural - Smoking Gun - Girl wrote:

That is an option.
Something, I don't know what, seems to me that I'd prefer the permanence of the PVC shutoff and *then* the less-permanent stuff, such as a garden-hose thread which is then attached to the rather flimsy tubing.
But thanks for the idea as I hadn't thought of the shut-off valve, which is just what I need.

posted on June 26, 2013, 11:31 pm
On 6/26/2013 6:04 PM, Danny D. wrote:
Sounds like a plan! One thing I probably should mention is those glued pvc sections come apart after being exposed to the weather elements day after day. You might think it is fine and you have the water pressure on the pipe, but the valve is shut off and come home from running errand with the pipes blown apart. We've had to re-glue every section of pvc pipe that we've ran throughout the yard so we could get a main water line to the back yard garden and set up the drip irrigation.
Got a call from my neighbor today that one of those sections had come apart and was producing a geyser in our back yard. He was kind enough to turn off the water from the source vs me rushing home to turn it off myself.
posted on June 27, 2013, 4:15 am
On Wed, 26 Jun 2013 18:31:16 -0500, Natural - Smoking Gun - Girl wrote:
Hmmm... they're not supposed to.
On a.h.r, we researched what destroys the PVS, and if you paint them, the UV light doesn't bother them, and there's not much else that will.
Of course, earthquakes and trucks driving on the lawn would break them - as do lawn mowers and weed whackers, but they are supposed to last longer that we will.
Still, it's a good idea to paint them. Here's a shot of my recently repaired pool equipment, for example, where I haven't painted the new sections I put on last month to fix the leaks.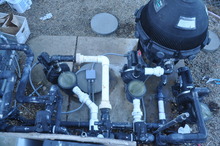 posted on June 27, 2013, 4:18 am
On Thu, 27 Jun 2013 04:15:16 +0000, Danny D. wrote:

More information on PVC which is supposed to last 100 years...
UniBell FAQ on Studies of PVC Pipe Performance Over Time: http://www.plasticengineeredproducts.com/manufacturers/unibell/faq.htm
The Effects of Sunlight Exposure on PVC Pipe: http://www.nacopvc.com/c/technical-info--forms/the-effects-of-sunlight-exposure-on-pvc-pipe
Painting of PVC Piping for Ultraviolet Protection: http://www.lascofittings.com/supportcenter/PaintingPVCPiping.asp
How to Use Acrylic or Latex Paint on PVC: http://homeguides.sfgate.com/use-acrylic-latex-paint-pvc-25511.html

posted on June 27, 2013, 9:48 pm
Danny D. wrote:
hmmm paint the pvc pipe where it's connected or all of it? I've never heard of that before.
posted on June 28, 2013, 2:35 am
On Thu, 27 Jun 2013 15:18:37 -0700, Oren wrote:
As Oren said, any and all white PVC that is sticking out of ground is typically painted (usually black, but only because it absorbs heat and is a cheap paint). For example, here is my pool equipment; only the newly repaired pipe is not yet painted black: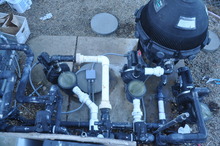 As Oren said, you're supposed to use acrylic (or latex) based paints; but, in my case, I couldn't find any in the house, and, when I asked pool guys, they said the petroleum is only there while it's wet, and that they use whatever is on the truck, so,
*maybe*
it doesn't really matter: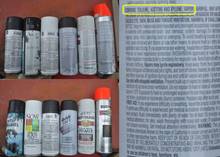 Note: For a larger size picture, substitute "img" for "640".
posted on June 28, 2013, 12:59 am
On Thu, 27 Jun 2013 14:29:10 -0700, Oren wrote:

It's amazing how the glue lubricates it so that the pipe fits on perfectly, and, yet it wants to pop back out - so I agree with holding it for a quarter minute or so.

Yeah, but we need *that* stuff for fixing holes with just two couplings and a center-pipe!
Or ... you use it in the four 90s method (which seems like overkill):
http://www.youtube.com/watch?v=WdYTg3oDKfU


posted on June 26, 2013, 11:09 pm
On Wed, 26 Jun 2013 10:56:30 -0700, Oren wrote:

I was afraid of that. Thanks for the warning.
I'll try this procedure:
a. I'll try to pull the green part out of the 3/4" PVC pipe b. If that fails, I'll cut the elbow off and replumb with a new PVC coupling, elbow, & valve c. Then I'll add the pipe-to-hose thread so it can be disconnected when not in use (like when it's my compost heap again!)

posted on June 27, 2013, 3:43 am
On Wed, 26 Jun 2013 23:09:37 +0000, Danny D. wrote:
You guys were right.
That green stuff is there to stay.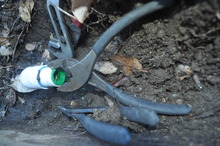 I'll probably cut off the elbow and start fresh, as there's no sense in restricting the water flow from the start.
posted on June 25, 2013, 8:39 am

To add to David's already comprehensive post, here is another online tutorial about polypipe irrigation; http://www.irrigationdirect.com/tutorial/irrigation/view/drip-irrigation-basics-and-installation/expert-advice/id/12 ?

posted on June 25, 2013, 10:32 am
On 6/25/2013 1:55 AM, Danny D. wrote:

Was it chewed up by critters or just been shredded by rough treatment and exposure to the elements? o_O
TDD