On Tue, 18 Jun 2013 00:48:04 -0700, snipped-for-privacy@optonline.net wrote:
I love the procedure; I just have a problem with the math, and, since I plan on trying it out, the math matters.
The problem I have is that the coupling seems to have an internal stop at about 1-1/4 inches inward as shown in this photo: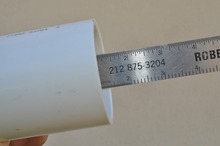 Given that, the repair pipe is extended by the remaining amount on both sides, which is about 1-1/2 inches on each side including the stop itself and a bit of slop (for a total of 3 inches of length extension).
So, given a six-inch opening, if I subtract those extra 3 inches, that would make a repair pipe of about 3 inches.
If I then subtract the 1/4 inch from those 3 inches, I get the following dimensions & procedure for the repair pipe:
1. Cut a 2-3/4" repair pipe 2. The total length including the two couplings would be: 2-3/4" pipe + 1-1/2" coupling + 1-1/2" coupling = 5-3/4" 3. That should easily fit in the 6-inch opening.
a. Prime everything & put glue on everything b. Place the couplings on the pipe ends (all the way) c. Insert the pipe in the opening, and slide the couplings outward
This math, if I work fast, should fix this hole, if I cut out six inches of pipe. Right?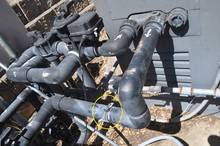 PS: I changed my newsserver because aioe is posting in triplicate.