On Wed, 19 Jun 2013 08:14:57 -0700, Harry K wrote:

OooooooooooooooHhhhhh!
Now I understand *why* trader said to cut the original pipe to 5-3/4 inches for a 6" opening.
If the coupling did *not* have a center ridge, then the math does work out because you *can* slide the couplings all the way onto the 5-3/4" pipe!
Now I at least understand what trader was suggesting!
Unfortunately, all the couplings I bought have a center ridge, so you *can't* slide the coupling all the way onto the pipe.
But, if I remove 3" from that 5-3/4" pipe, the math *does* work. With 1-1/2" of coupling added to the center 2-3/4" pipe, that center pipe becomes the 5-3/4" trader theorized.
The only problem is that it will take practice and skill to glue everything, and then slide the two couplings onto the 2-3/4" pipe and then position it in the opening and slide the two couplings over to the old pipe.
I suspect I have about 10 seconds, and maybe even about half that in warm conditions such as now, so, as Harry wrote, I'll need to practice ahead of time (or eat my mistakes).

On Wednesday, June 19, 2013 11:40:20 AM UTC-4, Danny D. wrote:

That is the difference. A repair coupling does not have the stops inside. It will slide all the way on.

No, the problem with that is there is so much pipe missing that little if any pipe will be inside the coupling. If you take any coupling, the pipe is designed to go about half way in from each side. With the above method, it won't be in anywhere near that far.

You don't have much time, that's true. Also, you can forget about the suggestion of dry fitting. With PVC unless there is glue, it's nearly impossible to assemble the parts, that is to get the pipe anywhere close to how far into the socket it needs to go.

posted on June 19, 2013, 8:06 pm
On Wed, 19 Jun 2013 11:07:24 -0700, snipped-for-privacy@optonline.net wrote:

This is true. I've gotten them 'stuck' on a few times dry, and even then, they only go about half way.
It's amazing that they slide fully on once the primer and glue are there.
PVC is an amazing glue system!

posted on June 20, 2013, 3:27 pm
On Wednesday, June 19, 2013 4:06:50 PM UTC-4, Danny D. wrote:

You would think someone would make some oversize PVC fittings of the common type so that you could use them for dry fitting purposes. If I was doing this work enough where they are really needed, I'd figure out how to ream out some regular ones.
The vast majority of the time, you don't need to fit stuff up that close. But the few times you do, being able to dry fit easily would be a big plus.
Another tip. If you do partially dry fit stuff up and need to keep the assembly angle the same, you can put a piece of black tape across the joint. Then before taking it apart to glue up, cut the tape with a razor at the joint. Then you glue it up and use the tape to get the angle back to where it was.

posted on June 20, 2013, 4:07 pm
On Thu, 20 Jun 2013 08:27:32 -0700, snipped-for-privacy@optonline.net wrote:

That's a nice idea. I could have used it when I had angled the motor so that it would be out of the way, yet, the outflow pipe wasn't directly over the basket.

posted on June 19, 2013, 3:46 pm
On Wed, 19 Jun 2013 08:14:57 -0700, Harry K wrote:

Thank you Harry for explaining that because I couldn't figure out what Trader was suggesting (math wise) until you mentioned that a coupler might exist that doesn't have a center ridge.
All mine have a very definite center ridge, which prevents any pipe from going into it past that ridge.
I guess I could file out the center ridge - but it seems easier to just compensate for that center ridge by subtracting roughly two times 1-1/2" from the repair pipe initial length.
Traders kindly suggested solution seems ingenious.
The only problem is *technique* (as that "glue" sets awfully fast)!
PS: They should make all glues this fantastic! (yes, I know it's a 'weld').

posted on June 17, 2013, 2:15 pm
On Mon, 17 Jun 2013 05:12:18 -0700, snipped-for-privacy@optonline.net wrote:
I agree. I did not buy a
*compression fitting*
(it was my mistake to use that word). I bought a schedule 80
*union*
(they don't seem to make them in schedule 40 where I live) - and a funky slider slider coupling.
Googling, I find it's actually called an *expansion coupling" http://www.troubleshooters.com/pool/repipe/#Expansion_Couplings
It's only rated at 200 psi though:
(Amazon.com product link shortened)
posted on June 17, 2013, 12:14 pm

.

later.
So, what? If it fails, just replace the whole union. Are those compression fittings meant to be taken apart and put back together again many times, like a union?

unions.- Hide quoted text -


posted on June 17, 2013, 12:54 pm
On 6/17/2013 or whenever, somebody wrote:

Difficult to imagine that that's the general case with compression fittings. Aren't they generally used for waste pipe? i.e. no or very low static pressure?
Personally I've only used them for plumbing a swimming pool filtration system that included a heater. Obviously, outdoor installation, entire system under pressure and subject to the elements. Once properly aligned and snugged down leakage was never a problem.
Why? End of season you want to drain everything down, pull the pump for winterization. Compression fittings like these made that a snap.

posted on June 17, 2013, 2:11 pm
wrote:

es.

rs later.

n unions.- Hide quoted text -

I used one ot them (real name is "Dressler Coupling") to connect/ disconnect my irrigation puimp feeding out of a stram. Eventually it 'cold formed' the PVC pipe into a 'depression' where the gasket fit. Took yeas to do it though. I don't think I would ever use one on PVC pipe in a buried application. I do have a couple of the galvanized ones in service, one over 20 oyears, with no problems...yet.
Harry K

posted on June 18, 2013, 2:27 am
On 6/17/13 9:11 AM, Harry K wrote:

I used to see some on pipe for pivot irrigation systems. It's been a long time ago though. Water supply pipe for pivots is usually 8" in the central U.S. There is some 10" but it's pretty uncommon around here. There really is no need for them since there is usually an elbow or something one can remove to get pipe apart.

posted on June 17, 2013, 1:52 am
On Sun, 16 Jun 2013 17:20:03 -0700, Oren wrote:
Yup. I don't disagree. The buyer seems to have paid for all the frills.
Funny thing though.
After paying for all the upgrades, they gave him steel bolts!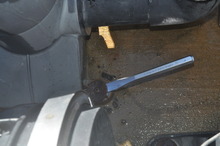 posted on June 17, 2013, 12:09 am
On Sun, 16 Jun 2013 16:21:07 -0700, Oren wrote:

They didn't have any schedule 40 unions in stock! :)
I'm sawing out the leaking ion-exchange thingey, so, I'll let you know how it works (if I use it, and not the schedule 80 union).

posted on June 17, 2013, 12:40 am
In belched:

I've used one on one of my pool connection with no issues

posted on June 17, 2013, 1:49 am