On Tue, 25 Jun 2013 18:48:30 -0700, snipped-for-privacy@sbcglobal.net wrote:
Hmmm... they're under an oak tree (which bears acorns). And, they "look" like the same leaves. But, that's all I had to go by.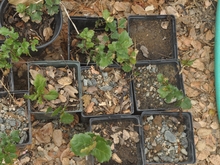 Having seen the majestic deeply lobate oaks of the east coast, I do understand the leaf does not look like your common eastern oaks ... but I still "think" it's an oak (due to the fact that the momma bears acorns - and I don't know any other tree that does that but an oak).
If it's not an oak, what is it?
Googling ... I see this Coast Live Oak:
http://en.wikipedia.org/wiki/Quercus_agrifolia
Or, maybe this Blue Oak: http://www.hastingsreserve.org/oakstory/TreeOaks.html
And, these common-to-California oaks: http://www.laspilitas.com/groups/oaks/california_oak1.html
And, even these native California oaks: http://www.stevenkharper.com/oakofcalifornia.html
Almost none of which have the classic East-Coast lobate leaf shape.
On Tue, 25 Jun 2013 20:16:15 -0700, Oren wrote:

Oren knows his huckleberries!
They were directly under a big evergreen oak. Actually, they were under a big evergreen thing that produced acorns. And, I think acorns are only made by oaks. Right?
Besides, the leaves don't look much different than this: http://www.fourdir.com/p_coast_live_oak.htm
And, the branches are kind of gnarly like this: http://www.laspilitas.com/nature-of-california/plants/quercus-agrifolia
So, I "think" it's an evergreen red oak species.

posted on June 28, 2013, 6:48 pm
On Tuesday, June 25, 2013 1:55:00 AM UTC-5, Danny D. wrote:
ww5.picturepush.com/photo/a/13403753/img/13403753.jpg So I figured I'd repl ace it with something better. But what? One end is merely bent over and nai led to these boards: http://www2.picturepush.com/photo/a/13403755/img/13403 755.jpg And, the other end has this cryptic glued? connection: http://www1. picturepush.com/photo/a/13403754/img/13403754.jpg I've never worked on drip irrigation before, so I picked up all sorts of 3/4" connections at the box stores: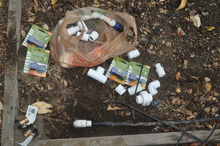 At H ome Depot, the guy told me that it's normal for the drip lines to simply pu sh in, but this end seems to be really really stuck. Another elbow nearby h as a NPT-to-Hose fitting on the end: http://www1.picturepush.com/photo/a/13 403769/img/13403769.jpg Would you suggest I simply cut the elbow off and st art fresh by putting a garden-hose connection on a T fitting? Note: The pla nts are tomatoes, which are just now sprouting, so it has to be a gentle ir rigation. I think a soaker hose may be too heavy - but I'm not sure what my options are.
27 foot above the ground pool is a damn deep pool, or did you mean 27 foot diameter, if so, how deep/tall was it????