On Tue, 25 Jun 2013 18:48:30 -0700, snipped-for-privacy@sbcglobal.net wrote:
Hmmm... they're under an oak tree (which bears acorns). And, they "look" like the same leaves. But, that's all I had to go by.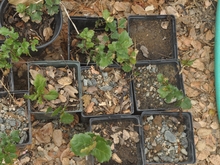 Having seen the majestic deeply lobate oaks of the east coast, I do understand the leaf does not look like your common eastern oaks ... but I still "think" it's an oak (due to the fact that the momma bears acorns - and I don't know any other tree that does that but an oak).
If it's not an oak, what is it?
Googling ... I see this Coast Live Oak:
http://en.wikipedia.org/wiki/Quercus_agrifolia
Or, maybe this Blue Oak: http://www.hastingsreserve.org/oakstory/TreeOaks.html
And, these common-to-California oaks: http://www.laspilitas.com/groups/oaks/california_oak1.html
And, even these native California oaks: http://www.stevenkharper.com/oakofcalifornia.html
Almost none of which have the classic East-Coast lobate leaf shape.