Sun, Dec 18, 2005, 11:31am (EST-3) too_many snipped-for-privacy@yahoo.com (Too_Many_Tools) doth ask - about wheels: <snippity>
Questions like this, just kinda puzzle me. I mean, I have no problem finding casters/wheels. for the few projects I use them on. The tools I have on stands, I don't have them wheeled, I just shuffle them from one place to another - less hassle than messing with wheels.
But, as for where to get them - plenty easy to find. Ace Hardware, Lowes, Wally Worls, Harbor Freight, Northern Tools, I think some of the auto parts stores have some, I think I saw some n a welding supply store. You could even buy a cart and salvage wheels, if nothing else. If you've got a welder, no biggie to cobble up some on your own. But, of course, there-s always on-line shopping - google is simple enough to use. Hell, even my mother could probably answer this one.
JOAT You'll never get anywhere if you believe what you "hear". What do you "know"?. - Granny Weatherwax


I use shopping cart wheels for a lot of stuff. There are enough derelict ones that are in flood ditches, and that have been hit by cars, so you're not REALLY taking something of value from the markets.
I have found some really good ones at yard sales, but only occasionally.
If I want the real deal, sometimes I just have to go to the local caster place, but even then, they have different grades, and I can get something better than I need for not too much. If it's a really good piece of equipment, or it has to work just right, you can't beat good wheels.
Ebay?
Just learn about them, and when you see them, you know if they are a deal or not.
Steve

posted on December 18, 2005, 10:49 pm
Try the dumpster behind your local hospital. They are always getting rid of equipment with 6" plus wheels. Most are not going to take a real heavy load, but are quality items.
Chuck P.

posted on December 19, 2005, 12:35 am
Grizzly has a bunch - but you might need to get a paper catalog - their website is sort of hard to search if you don't have the catalog number (in my experience). I found some brand new, good-quality, smaller (3") casters on ebay for cheaper than I could find them anywhere else, so you might check there. Andy

posted on December 19, 2005, 2:19 am
You can always go to the index feature at Grizzly. That is a virtual copy of the paper catalog.
Just find a machine or something. Then click on more information. Someplace on the page will be catalog page and/or index button. Click it and you will be there. Easiest thing to do is just look it up in the index.
http://www.grizzly.com/catalog/2005/Main/224
By clicking on wheels in the index, yo get the above page. there are several pages of wheels and casters.
posted on December 19, 2005, 2:00 am
On Sun, 18 Dec 2005 22:49:40 GMT, MOP CAP

Indeed. My Airco PhaseArc mig is on gurney wheels.
Gunner
"Pax Americana is a philosophy. Hardly an empire. Making sure other people play nice and dont kill each other (and us) off in job lots is hardly empire building, particularly when you give them self determination under "play nice" rules.
Think of it as having your older brother knock the shit out of you for torturing the cat." Gunner

posted on December 19, 2005, 3:02 am
wrote:

Somehow the dumpster of a local hospital is the last place I'd really want to be looking for anything. [I know, all the bio-hazards are suposed to be taken care of elsewhere].
+--------------------------------------------------------------------------------+ If you're gonna be dumb, you better be tough +--------------------------------------------------------------------------------+

posted on December 19, 2005, 4:38 am

Cante see gurnee wheels any more dangerous than visiting a hospital.
i

posted on December 19, 2005, 4:38 am

This is a fantastic idea! I just learned something today from you, thank you!
By the way, last night I found a nice sensor switch in a dumpster, with some electrical conduit/boxes and such. I want to find a dumpster with lots of used wire. There was a great quantity of it near the children's museum, but it is all gone. Perfect for all kinds of projects where great lengths are not needed.
i

posted on December 19, 2005, 3:39 am
For stationary power tools I want mobile I wait for this http://www.rockler.com/product.cfm?page#83&filter '051 to go on sale like it is right now for $40.
Otherwise HF, yard sales, goodwill/secondhand shops, etc.
For large wheels consider kiddie bikes & trikes.
Art


posted on December 20, 2005, 5:27 pm
Thanks Art! I just got done swearing up a storm trying to move my table saw on its flimsy legs with so called casters/wheels on it. I end up dragging the darn thing across the floor because the caster/wheel system is so weak.


posted on December 20, 2005, 5:39 pm
I bought some very strong and nice new 4" wheel casters for $24.99 (including shipping) on ebay, they work very well so far. I installed them on my rotary phase converter.
Here they are on ebay:
http://cgi.ebay.com/ws/eBayISAPI.dll?ViewItem&itemu58245428
and here they are underneath my phase converter: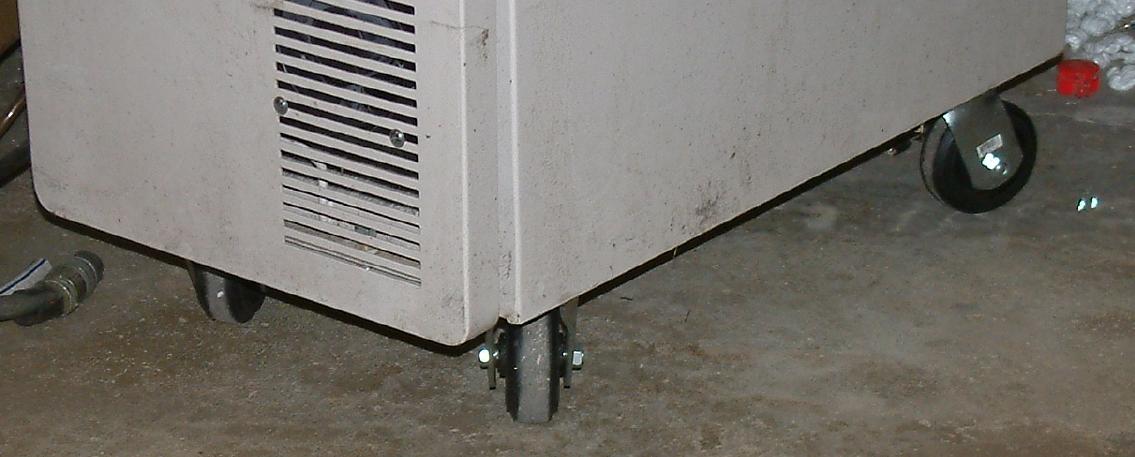 http://igor.chudov.com/projects/17.5-Phase-Converter/dscf0003.jpg
i