Fed-ex dropped off something I'd long since forgotten about.
Months ago, I bought a parts bin floor rack from HF when it was on sale for cheaper than I could buy the bins, alone.
I just wanted the metal rails the bins hang on, so I could screw them to the wall.
The box didn't have any nuts-n-bolts in it, so I called HF's toll free number and they said they'd send them to me.
So that's what Fed-ex dropped off, today. Inside were the hardware and an invoice.
Let's just say, I'm glad I didn't have to pay for these. :-)
Take a look...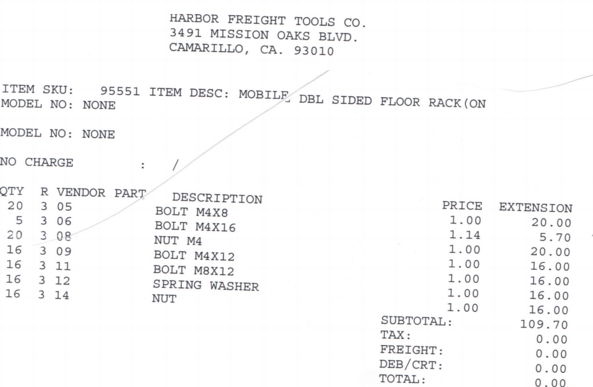 http://www.mikedrums.com/harborfreightinvloice.png
--

-MIKE-

"Playing is not something I do at night, it's my function in life"

Click to see the full signature.