On Fri, 06 Jul 2012 15:53:32 -0400, tony cooper wrote:
Hi Tony,
I don't really know if a filter would have helped.
Here is a picture of the crack.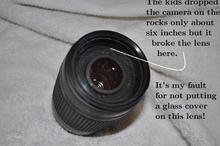 It's hard to see but it's a u-shaped crack in the relatively flat glass on front of the lens. The marking on the lens say: Nikon AF Nikkor 70-300mm 1:4-5.6 G
Looking closely, there are also little tiny dots of what appears to be the broken bits of glass scattered about. I can take a better picture if you need more information.
I didn't 'see' the camera get dropped. The kids were taking pictures, and, when I got the camera back, it had the spar. I didn't know who did it and they didn't say. It was, of course, my fault for letting 10 year olds use my camera ... but that's a foregone conclusion.
They were playing on boulders and snapping pictures so I can only assume they dropped it (or swung it into the rocks).
That might be too much detail - but - I wonder - would a filter have prevented this crack?