On Thu, 05 Jul 2012 23:02:40 +0000, Arklin K. wrote:
As a summary: 0. Calling 800-645-6687 and spending more than an hour with them, I find: 1. Nikon will sell parts to consumers 2. Nikon will not provide a parts diagram. 3. You have to describe the part, and they will sell it to you. 4. For me, that part number is a "bayonet mount" PN 1C999-601-2 $9.45 5. The filter is apparently a 52mm glass filter 6. People tell me I can get the filter for about $15 mail order 7. Most say the lens will be difficult to fix 8. Mostly because of the circuit board ribbon 9. So I will write up a pictorial DIY to help the next person!
EMOTIONAL ISSUES: (take them with a grain of salt please)
In hindsight, the Nikons I bought from Costco (Coolpix 5000, Nikon D50, Nikon D60, and Nikon D5000) are all junk cameras; but it's not their fault. Here is a snapshot of just the broken ones in the top of my camera box just now: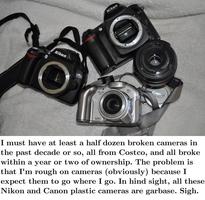 The Costco Nikons just can't take daily use. I guess they're for vacations only in good weather and only under sterile conditions (not normal day-to-day life). For me, I need a camera that can go where I go. Nothing more complicated than that - but it has to take jostling and dropping and nudging and bouncing around like any camera should.
Nonetheless, I blame nobody but myself for buying the Costco Nikon junk. It's all my fault. Plastic is plastic. Plastic is junk. Plastic breaks. All the time. They don't last a year. However, since I already own them, I'm trying to fix this one camera (and maybe I'll fix the other four or five in my camera box if this works).
------- HELP ------- The one open question is how to get a hold of the exploded parts diagram for Nikon equipment (because Nikon won't supply them!).
Q: Do you know where to get exploded diagrams of Nikon equipment?