On Tue, 26 Mar 2013 04:22:30 +0000, Bimmer Owner wrote:
Looking more deeply, I find ANOTHER reference to the two MOSFETS, which, are clearly the two transistors shown in the wiring diagram that you had surmised must exist (by detective work).
Here's another quote which went along with this photo below that mentions the unknown-as-yet MOSFETS: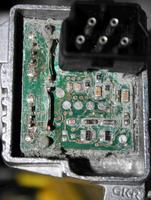 [QUOTE=olivier577] The 2 MOSFET drain and source are tied together but the gates are differents
On the picture , one of the component is gone with the rubber foam : its look like transistor : black with 3 pins ( it 's not bipolar transistors ).
It happen to me also : the component gone so easily that I didn't realize it, maybe it is the issue for that FSU.
It is only while I compare to other pictures in the forum that there was a lack of component on my board.
fortunately I found it together with the rubber foam parts, so I will solder it back later[/QUOTE]