Technically, probably yes. But, there are some obvious problems. One is, there are a lot of things that could cause it to stop heating, only one of which is the magnetron. Figuring out which it is, unless you have the suitable skills, schematics, etc will require a tech, service fee, etc.
The second is that if it is the magnetron, what does a new one cost? Could very likely be buckoo bucks. Generally, given the cost of a new regular microwave, it's not worth screwing around with. But since this is part of a built-in JennAire, I feel your pain.

I think that's unlikely. If it were that simple, could mix and match other companies products into that JennAir frame. For some odd reason, JennAir doesn't want you to be able to do that.....

I had an even older JennAir oven/microwave combo. I did a mini makeover of the kitchen and got rid of it. It was still working, but was outdated. So, I found a Kitchenaid double oven on Ebay. It was a floor model, but in perfect condition except for some sale stickers. That unit retailed for $3000. I got it for $1200. It was also a 30", which is a good thing, where the existing was 27". I had to carefully scope out the cabinet situation where it was going. And I had to cut apart the cabinet to make it fit. Including taking the cabinet from above to a cabinet shop and having them cut several inches off the bottom. But it came out great. Looks 1000% better.
I also like the idea of double ovens a lot more than the built-in microwaves. The look much nicer, are a selling point for kitchens today. And from what I have seen, the microwaves from the major kitchen appliance/oven manufacturers cost $1000 and suck compared to the $100 countertop model. They tend to be no larger, more confusing controls, don't heat as well. If the $100 one goes, you just buy another.
Just some things to consider. Maybe you should buy a countertop one and look for a great deal on a new double oven.....

On Mon, 17 Dec 2012 09:23:04 -0800, snipped-for-privacy@optonline.net wrote:

I had never thought of that; thanks for the good idea.
Looks like the bottom oven is a 27 inch variety.

posted on December 17, 2012, 6:07 pm
On 12/17/2012 11:04 AM, Danny D. wrote:

If you do replace it, I'm pretty sure you can find a replacement trim for your opening. That way you don't have to worry about the exact size.
I know Sears and Lowes sells them. HD probably does too.

posted on December 17, 2012, 9:12 pm
On Mon, 17 Dec 2012 12:07:35 -0600, gonjah wrote:
Good to know! I'll bring the trim with me when I buy the replacement.
BTW, here's a full-size schematic where I'm looking for the thermal switch and fuses.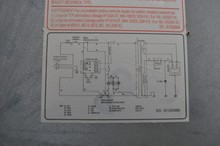 posted on December 17, 2012, 11:10 pm
Part labelled "H.V. Diode". Next to the magnetron, about 7 o'clock from the magnatron. Goes to case ground, like my last post suggested.
Christopher A. Young Learn more about Jesus www.lds.org .
BTW, here's a full-size schematic where I'm looking for the thermal switch and fuses.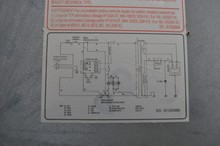 posted on December 18, 2012, 5:51 am

That looks more like a "block diagram" than a schematic. If you didn't find a folded up paper schematic tucked inside somewhere, then go online and find one. I've read other responses, but I'm sticking with a faulty thermal cutoff as most likely culprit.

posted on December 18, 2012, 2:38 pm

Why do you say that? It sure looks like a schematic to me. It shows the various components and the circuit connections between them.
If you didn't


posted on December 18, 2012, 4:16 pm
In article

Seems a little light on detail.

posted on December 18, 2012, 4:49 pm

The control board is more like a block diagram, but the other circuit shows all that should be there.

posted on December 18, 2012, 5:06 pm

I don't see the thermal cutoffs anywhere on that diagram, and I'm the one who thinks that one of those is the most likely culprit.

posted on December 18, 2012, 6:30 pm

What's the "magnetron thermostat" that is right after the fuse on the incoming AC? Sounds like a thermal protection device to me......

posted on December 19, 2012, 3:44 am
In article

Perhaps it is, at that. But if that one were shot, there wouldn't be any power anywhere. My microwave has three thermal cutoffs.

posted on December 17, 2012, 9:37 pm

I have repaired a number of microwaves that I have owned. First is check the fuse, I have had a number go for no reason. Replace it and you are good again until it blows again in a few years. Second check the micro switches on the door latches, they interlock for safety, if one fails the oven will not work. There sometimes are three of them, some normally open and some normally closed, check them with a meter. Beyond that I have had one that burnt out a thin wire that carried about 13 amps, and then needed another part, it was cheaper to replace it than repair it.

posted on December 17, 2012, 11:04 pm
I've found microwaves tend to have a high voltage diode, and a high voltage capacitor. Both are known to go bad. I've repaired several microwave ovens, and it's been these two parts.
Christopher A. Young Learn more about Jesus www.lds.org .
This Jenn-Air (model M170B) 1,350 Watt microwave just stopped heating: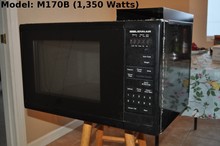 I called Jenn-Air customer support who said there's no troubleshooting for when it doesn't heat. They said the magnetron may need to be replaced: Jenn-Air 800-536-6247 Customer Care
A replacement microwave oven has to fit over the electric oven: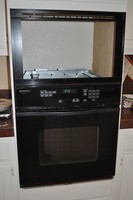 Interestingly, (since it was above the oven) the back sticker says: "May be built into a cabinet structure, but not for use adjacent to (with 2 feet of) any gas or electric range, cooktop or oven."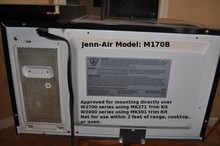 But, that sticker also says: This microwave is approved for mounting directly over Jenn-Air wall ovens as follows: W2700 Series Using MK271 Trim Kit, W3000 Series Using MK301 Trim Kit
Having never worked on a microwave, I ask what the conventional wisdom is. Q: Is it generally feasible to replace just the magnetron? Q: Will similarly sized microwave ovens fit (22" widex13"tallx15" deep)? Q: Is it generally best to stick within the same brand? (e.g., JMC1116AB)?
posted on December 18, 2012, 1:22 am
Danny D. wrote:

"When it doesn't heat..." Do you mean the microwave does everything else EXCEPT heat the contents? That is does if LOOK like it's working, turntable goes round, light comes on, timer works? If so, replacing the magnetron is a good first guess.
I say this because the other stuff is governed by a printed circuit board that has three to ten dodgy electrolytic capacitors on it. Replacing these capacitors is pretty easy and pretty cheap.

posted on December 18, 2012, 3:14 am
On Mon, 17 Dec 2012 19:22:18 -0600, HeyBub wrote:

Yes. EVERYTHING, fan, lights, table, controls, etc. ... everything else is working. The only thing that is not working is nothing gets heated.

posted on December 18, 2012, 3:45 am

Could be the magnetron, altho the usual failure is a gradual decrease in power output so thing take longer and longer to get hot. If you can locate the two wires going to the magnetron filament, you should see someting less than 100 ohms for the filament. But, you have to disconnect one wire from the filament to the power transformer before you check the filament or you will just see the resistance of the transformer and not the filament of the magnetron.