This Jenn-Air (model M170B) 1,350 Watt microwave just stopped heating: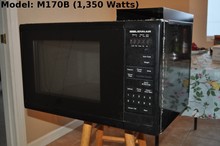 I called Jenn-Air customer support who said there's no troubleshooting for when it doesn't heat. They said the magnetron may need to be replaced: Jenn-Air 800-536-6247 Customer Care
A replacement microwave oven has to fit over the electric oven: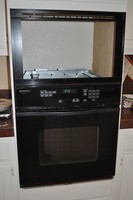 Interestingly, (since it was above the oven) the back sticker says: "May be built into a cabinet structure, but not for use adjacent to (with 2 feet of) any gas or electric range, cooktop or oven."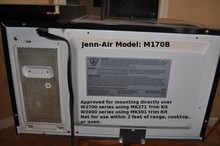 But, that sticker also says: This microwave is approved for mounting directly over Jenn-Air wall ovens as follows: W2700 Series Using MK271 Trim Kit, W3000 Series Using MK301 Trim Kit
Having never worked on a microwave, I ask what the conventional wisdom is. Q: Is it generally feasible to replace just the magnetron? Q: Will similarly sized microwave ovens fit (22" widex13"tallx15" deep)? Q: Is it generally best to stick within the same brand? (e.g., JMC1116AB)?