While I was working on my pool equipment, I heard a rat next to me rooting about in the pool heater.
At one point, the soft furry guy even showed itself, seemingly oblivious to me, inches away from my face walking along the pipes... but I wasn't quick enough to snap a picture before it scurried back into the heater.
So, I put out a couple of those horrid yellow-plastic-tabbed rat traps, where it snapped onto my finger, as I tried to set the the super- sensitive trigger. Ouch!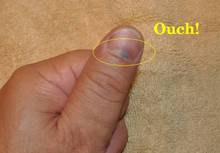 I swore I'd throw them away and get new all-metal rat traps in the morning!
Anyway, I wasn't back working on the wires, only two feet away, for more than five minutes, when I heard the tell-tale snap.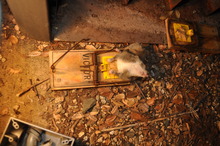 The rat died immediately as I was there within five seconds and it wasn't moving at all: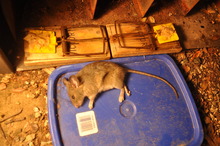 I felt really badly for the little guy, but I can't have them chewing on the wires in the heater (which might be why the heater isn't working):
Just curious: Q: Do you also have trouble setting those plastic yellow-paddle rat traps? (Next time I get traps, I'm going to buy the all-metal-trigger ones!)