On 5/18/2013 1:01 AM, Roy wrote:
And I say, who cares?
I got tired of setting traps for mice in the garage and, in the fall, in the laundry room.
I bought a pair of Rat-Zapper Classics (now called "Raticators")
Powered by AA batteries they work like a charm.
Check it out:
https://www.youtube.com/watch?v=kDIZzv2NEMU
http://www.ratzapper.org/
(Amazon.com product link shortened)
When the pilot light says it's got one DRT, I just shake it out into the garbage can or back in the field and drop in two more small pieces of dry dog food and set it back down next to the wall.
When I first got them and set them out in the garage and shop, I was zapping three or four mice per day. Now I might get one every two weeks or so.
wrote:

se

s

s

WARNING.....
I bought on of these POS's..... ~$50....took forever but eventually killed one rat.
Developed "error condition" replaced batteries... twice. Still doesn't work, company gives run around.
I cannot afford to kill rats @ $50 a pop.
Reading Amazon reviews.... lots of people love these units, a fair number hate them. I'm guessing they have QC / production problems (made in China?)
If you get a good one, you;re golden if you get a bad one...you're SOL. :(
cheers Bob

posted on May 18, 2013, 6:19 pm
On 5/18/2013 12:45 PM, DD_BobK wrote:

For once I apparently was lucky and, thus, golden. Bought a twin pack for something like $75. Had one instance where, as you alluded to, it went to error condition (showed there should be a dead mouse/rat/critter but there wasn't).
Washed it out in a shallow pan per the instructions, let it dry and all's been well ever since.
Had mine two years now and have changed the batteries out three times. It's a hit! Just keeps knocking them dead! (sorry, couldn't resist).
Spring time now and wife will move one out by her herb garden and decimate the gopher/ground squirrel population.
Buddy who tipped me to these is out in San Diego where tree rats (or roof rats) are a problem. Damn those are some big dudes. Thought that maybe he had to catch them and pound them into the traps to make them work<g> He's sent pictures of the damn rats with their ass hanging out of the trap. DRT!
So long as it works, I'm happy and SWMBO is happy and that's all that counts.

posted on May 18, 2013, 9:18 pm
On Sat, 18 May 2013 13:19:45 -0500, Unquestionably Confused
I had the best luck with the live trap in that other picture I posted. It did not seem to disturb the ones I didn't catch right away and they kept getting caught until they were all gone.
http://gfretwell.com/wildlife/rattus_rattus.jpg
They seem to learn pretty fast and start avoiding a trap they see a dead buddy in. The glue pads work pretty good too if you put it along a wall where they like to run. Just be sure you anchor it or they will run off with it. That was the first one I shot in the house. He was running around dragging a clue trap and the dog bowl the glue trap caught along the way.
posted on May 19, 2013, 1:33 am
On 5/18/2013 4:18 PM, snipped-for-privacy@aol.com wrote:

Rat Zapper recommends occasionally cleaning out (soak in a shallow pan with a bit of detergent and let air dry). Likely to remove the scent of death more than anything else.

IIRC placing any trap along the wall is the way to go. Little buggers don't seem to like scurrying out in the open and tend to follow the walls.
The mechanical cat (the trap that scoops them up and flings them into a holding cell to starve to death recommends that placement. You see the commercial bait traps at Costco, Sam's and by factories always along the walls.
I know Rat Zapper recommends locating them that way. Seems to work just fine.

posted on May 22, 2013, 4:50 am
On Sat, 18 May 2013 20:33:35 -0500, Unquestionably Confused wrote:
These poor things don't seem to care that there's already one dead in a trap right next to the trap they decide to eat from: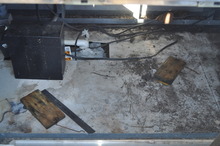 They both seem to be the same big-eared long-tailed species as before, only much smaller this time: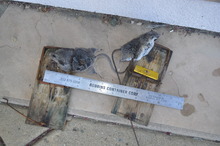 posted on May 18, 2013, 2:01 pm
wrote:

How many were almost a foot long with the tail?

posted on May 18, 2013, 5:49 pm
On May 17, 10:27 pm, snipped-for-privacy@aol.com wrote:

us

t

.

,

re

n't

on

aps?

Well done..... our local rats don't look like that (all the ones I've caught over the last 30 years) That looks like one of our local mice but MUCH bigger.
I'll defer to your expertise.... I've never caught a rat during the day, only at night. Mice, OTOH, day or night...they;re really dumb.
I've seen this style rat.
cheers Bob

posted on May 18, 2013, 9:08 pm
wrote:
I did a little looking as a sanity check and it turns out roof rats are the most common here in Florida but far outnumbered by the Norway rat in most of the country.
This is a pretty good comparison graphic
<
http://upload.wikimedia.org/wikipedia/commons/thumb/4/40/Comparison_Black_Rat_Brown_Rat_EN.svg/290px-Comparison_Black_Rat_Brown_Rat_EN.svg.png

:>

I have killed a bunch of them, including three I shot in the house. (much to my wife's dismay) I found out, if you can get your thumb in a hole, a roof rat can get in it but they usually open it up to about 1 1/2" pretty quickly. The only way to keep them out is to SEAL up the house.
posted on May 19, 2013, 9:59 pm
On Sat, 18 May 2013 01:27:16 -0400, gfretwell wrote:

Yup. Both covers are exactly the same (and both from Costco).

posted on May 21, 2013, 1:17 am
posted on May 21, 2013, 1:37 am
On Monday, May 20, 2013 7:17:15 PM UTC-6, Attila Iskander wrote:


posted on May 21, 2013, 7:45 am
wrote:

I HOPE YOU CALLED AN AMBULANCE!
This could kill you!