leza wang wrote: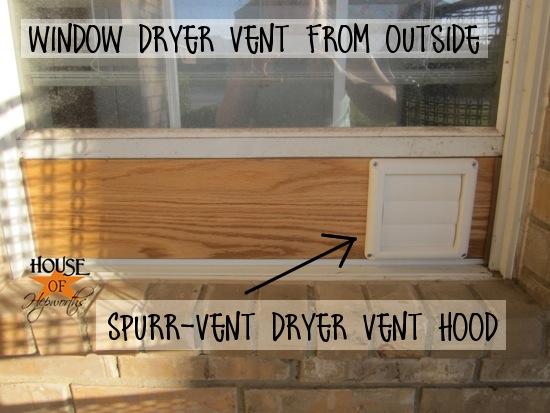 http://images.houseofhepworths.com/2012/03/12dryer_vent_window/dryer_vent_2_hoh_6.jpg
Another easy, quick, and cheap option would be to start with an "indoor dryer vent kit" such as one like this:
http://www.homedepot.com/p/Dundas-Jafine-ProFlex-Indoor-Dryer-Vent-Kit-TDIDVKZW/202449697
.
These are not supposed to be used for gas dryers, but yours looks like it is an electric dryer (not gas), so it should be okay.
A disadvantage of these indoor dryer vent kits is that they vent hot humid air into the room where the dryer is located. That may not be much of an issue where you are located due to the cooler climate. If you have a secure screen on the window in that room, you could open that window while drying if that helps. And, if the vent fan in that room works, and is controlled by the wall switch, maybe that would be a way to vent the humid air to the outside.
Most, but not all, of the lint from the dryer gets collected in the dryer vent kit (which must be cleaned frequently).
Direct venting to the outside is better, but this indoor dryer vent kit is another option.
One issue you may have, regardless of how you do the venting, is figuring out how to make the connection to the dryer itself. From the photos, there does not appear to be a vent pipe coming out of the dryer that you can connect the vent ducting to. You will need to look inside the hole at the bottom of the dryer to see what you need to put there to make the connection to the dryer. Most likely, it will just need a connector piece that attaches to the vent duct that is inside the dryer and is done with a regular dryer vent clamp.
If you are able to upload a photo looking inside the dryer vent hole at the bottom of the dryer, it may be possible to tell from that what you need. Or, you can probably figure that out on your own.