On 08/03/2014 1:18 PM, Michael Wilson wrote: ...
Not if that pressure indicator is at all accurate, no.
If the system is empty/open, does the gauge then read zero or is it way out of whack, maybe? Take it off and be sure it does zero out. Also be sure the feed tubing to it is clean of rust, etc., so it it gets a fair view of actual pressure.
Here's at least a reasonably-arranged installation if not pretty--the well feed would be from the rear, the outlet to the house on this side.
<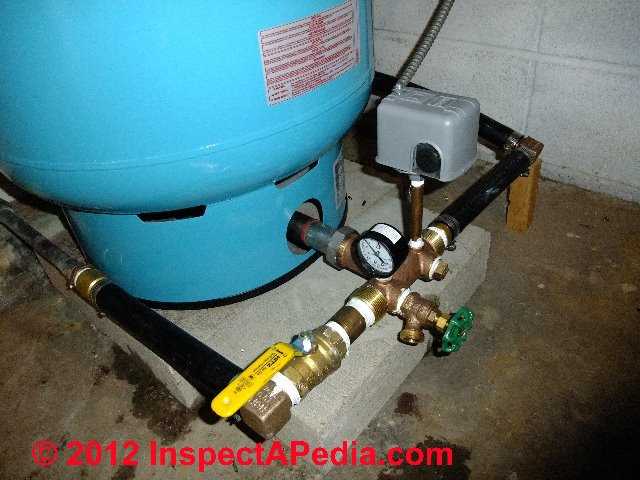 http://inspectapedia.com/water/Two_Harbors_2011_0420_DJFs.jpg
It needs to be pretty close proximity to the tank; if it's too far away you're reading pressure wherever it is in the system which depending on pipe sizing, etc., can be quite a bit different.
The bladder/diaphragm in the pressure tank is precisely size to the size of the tank and the pressure differential between on and off and that 2 psi difference between it's dead pressure and the cut-in pressure. It moves from fully up to fully extended where it is just at the top of the outlet when reaching the cut-in pressure--too high and you don't get much of the tank volume, too low and the bladder will actually extend to the point it'll cut off the outlet by stretching too far.
You do need to get this right and if you don't have the skill set to get it set up correctly, spend the bucks and get somebody out to do it correctly--you'll save money in the long run by not screwing up something more expensive to fix.
<http://www.sprinklers4irrigation.com/en-us/pg_75.html
At least a minimum description.
Unlike Harry K, I'd say the 30-50 is by
_far_
the most prevalent setting I've ever encountered; we run 20-40 here on the farm and have been content for 50+ years; run the house plus all the animal waterers (up to 1500 head worth) plus the lawn/garden (altho use the traveling sprinklers rather than impulse sprinkler heads) and never have pressure issues.
But, I wouldn't quibble with either altho I personally think 60 is too high for household internal use for the aforementioned reasons.