Thanks for the informative posts. The answers I have so far are given below .
POST03_TOOL09 https://www.dropbox.com/s/0nph0l0osl7g11u/POST03_TOOL09_PICALL.JPG?dl=0 This tool is metal. It produces a hole approximately 1/8 inch in diameter. There is a slide to close or open to fill or empty the storage compartment. The spring is a compression spring and requires approximately three pounds of force. I have obscured the Patent Number and the stamped name on the to ol as it would be too easy with them shown.
This is a VINTAGE McGILL UTILITY PUNCH PATENT # 1641521 RAILROAD CONDUCTOR TICKET PUNCHER w/Box like the one pictured here: http://www.ecrater.com/p/3118719/vintage-mcgill-utility-punch-patent-1641 521
POST03_TOOL10 https://www.dropbox.com/s/pzv2dk1y2shesud/POST03_TOOL10_PICALL.JPG?dl=0 This tool is metal and it is approximately twelve inches long. The pinching ends are shaped like small spoons. When closed, there is still some abilit y to apply additional pressure but it is not too great as the handles have some give and there is no mechanical advantage.
This is likely a forceps. It looks a lot like the antique Urology Foceps he re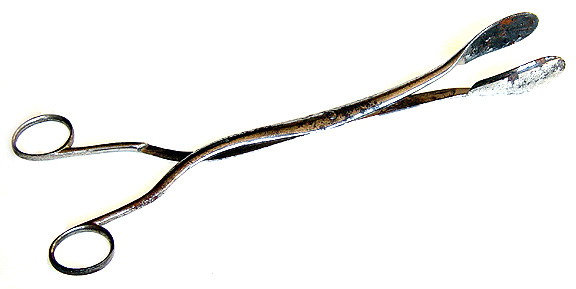 http://antiquescientifica.com/urology_forceps_lithotomy_Tiemann.jpg
but it lacks the barbs and is not of good quality stainless steel or nickel . It may be a pair of chemistry forceps.
POST03_TOOL11 https://www.dropbox.com/s/ko73myy1vnt0ps7/POST03_TOOL11_PICALL.JPG?dl=0 This tool is metal with red rubber/plastic on the handles. It has a latch t o keep it closed when not in use. An expansion spring inside one of the han dles forces it back to the open position if not latched. It only requires a couple of pounds of force on the ends of the handles to oppose this spring . As can be seen, there are three pivot points. I find it a well-designed t ool for its use. There is a tool name and manufacturer printed on the inner side of one handle.
This is a Diamond Brand Compound Cutter (Offset left-cut aviation shears). A different brand is pictured here http://www.kleintools.com/catalog/aviation-regularoffsetbulldog/offset-le ft-cutting-aviation-snips
POST03_TOOL12 https://www.dropbox.com/s/nkx3ihfq44ho0h2/POST03_TOOL12_PICALL.JPG?dl=0 The preserved parts of this tool are iron and are approximately four feet l ong. It was not well taken care of before I got it and a wooden piece that fit through the hole had rotted away. It looked to have been a smooth round pole about three feet long with a diameter to match the hole.
This tool is an Auger/Post Hole Digger. http://toolmonger.com/2008/09/24/iwan-auger/ One poster noted it would be good for clayey soil.