My other half's grandmother finally had to move into an assisted facility. She is in the process of selling her home and is giving some things to the family. One item we got is a cast iron (aluminium?) and wood bench that looks very much like this one...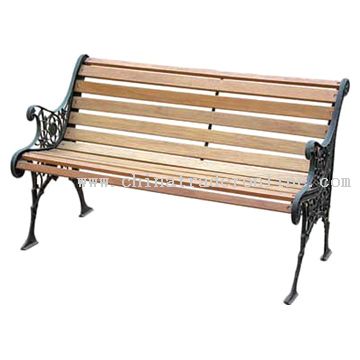 http://www.chinatraderonline.com/Files/Household/Furniture/Garden-Wood-and-Metal-Furniture/Park-Bench-21571168235.jpg
Most of the slats are gone but I salvaged one of each size for measurements in cutting news ones. However this bench has three straps underneath that screw into the wooden slats, one of which is missing. You can see the center one in the photo. The other two are one on each side of the iron sides (top of lower arc), go across about one third the length and up into a center slat, screwed in from the bottom.
Unfortunately one strap is missing. I was wondering how crucial are the straps to the bench structure. Can I do without one? Or can I run a rod across the length of the bottom of the bench instead?
The edges of the cast sides cover partially over the ends of the boards when put together, so I am assuming the straps are to pull the sides together. With about two thirds of the slats, and one strap, missing, the bench is very wobbly. I suspect full slats will help but I would like the bench to be as stable as possible.
Thanks for your input... `Casper