posted on January 10, 2018, 5:42 am
On 1/9/18 10:59 PM, DerbyDad03 wrote:
More or less, yes. IIRC, I pushed down when tightening the clamps to ensure there was good contact with the bottom of the "L." Keep in mind, the glue joint on the portion of the edging that is underneath the shelf is only as strong as the glue between the bottom two veneers, right? Any glue I use there will adhere to the finish veneer on the bottom. The only glued bonding that's really necessary in on the edge of the plywood. The hardwood edging is bonding with every ply and all those plies are bonded to each other. The biggest advantage to the rabbeted ("L") portion of this joint is the multiplied mechanical and physical structural strength.
The simple physical structure of that shelf sitting on the rabbet ("L") adds and incredible amount of strength to the shelf, even without any glue on that surface. And in fact, even if the "L" wasn't there at all-- if the edging was simply a 3/8"-ish x 1-1/4"-ish rectangular strip of wood-- the extra 1/2"-ish of profile in the edging acts like an I-beam to add a lot of strength and keep the shelf from sagging.
Think of a metal floor truss and how little surface is actually resting on the bearing walls, yet because of the physical properties, the mechanical strength is great. Perhaps a poor analogy, but it's bedtime. :-)
The shelf in this picture was used in these bookcases, with 4ft. wide shelves.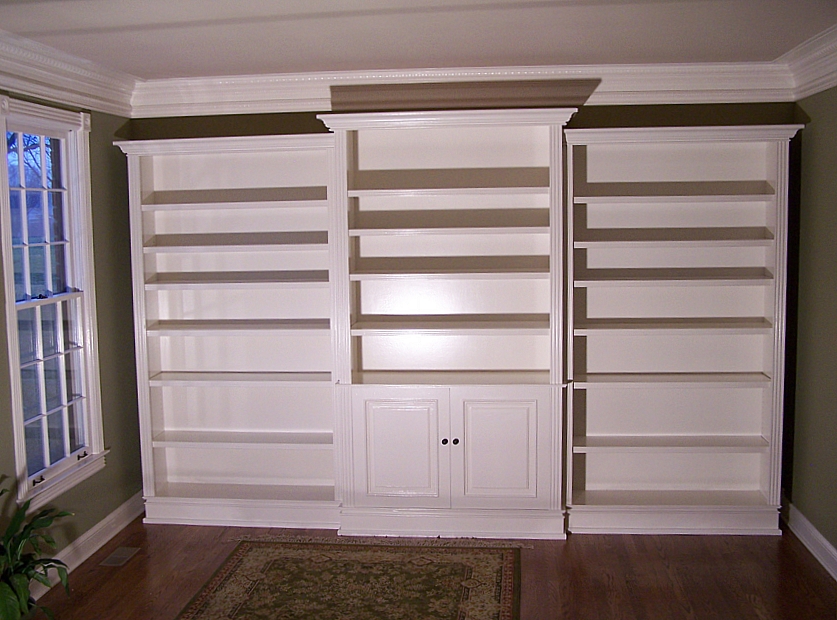 http://mikedrums.com/bookcases.jpg
I did a test of one of these shelves. I placed the shelf between two tool boxes with about an inch of shelf resting on each box. I then took about half of all the books the client was going to put on these shelves and stacked them all on this shelf, in a pyramid. I left them there for about 4 days and there was absolutely NO deflection in the shelf.
--

-MIKE-

"Playing is not something I do at night, it's my function in life"

Click to see the full signature.