On Thu, 02 May 2013 22:21:06 +0000, Red Green wrote:
Interestingly, I'm feeding my pet gopher some of the sweet lemon-scented stuff myself (mixed with a bit of bleach)!
Here's what's all over my lawn: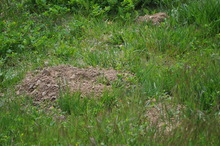 And, here's the cute cuddly culprit, caught in the act: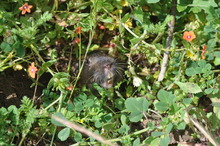 A few weeks later, here's my noxious go-away message: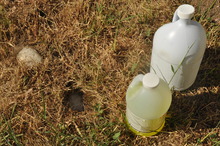 QUESTION: Do gophers re-use their existing holes? (Why do they make so many anyway?)
On Fri, 03 May 2013 10:04:17 -0700, Oren wrote:

This gopher has been holing my lawn for years and I've let him as I really 'do' like nature.
But, these holes are driving me crazy so all I really want is for him to move on to the next hillock to disfigure.
Maybe the lemon scented ammonia + bleach will be obnoxious enough. I used a half bottle of the stuff yesterday.
My plan is to fill any new holes with ammonia & bleach. I looked up the chemistry. While chlorine gas 'can' result, it generally doesn't result in large quantities.
Still - ammonia and bleach should stink up the holes...

posted on May 4, 2013, 12:51 am

Just get a gallon or so of cat piss. That ought to do the job.

posted on May 4, 2013, 1:56 am
On 5/3/2013 7:51 PM, snipped-for-privacy@snyder.on.ca wrote:

Um, how you gonna hold the cat down to get it? o_O
TDD

posted on May 3, 2013, 1:50 pm

I was waiting for that. LOL

posted on May 3, 2013, 10:29 pm
wrote:

Look under janitorial supplies in the phone book. I know they sell it in large containers because when I was young I worked for a janitorial company.

posted on May 3, 2013, 10:43 pm
On Fri, 03 May 2013 17:29:10 -0500, generic wrote:

What does ammonia do anyway?
I mean, I'm sure it's a solvent - but water is as good, isn't it?

posted on May 3, 2013, 11:56 pm
wrote:

It makes great explosives. Lotsa fun.

Ammonia is a great cleaner for organic matter and a disinfectant.