Hi,
Most older microwaves have used a 120 volt 15 amp fuse or an 250 volt 15 amp fuse. Newer higher power microwaves have switched to a 250 volt 20 amp fuse.
http://store.yahoo.com/cgi-bin/clink?a-1appliance+tSwkBf+20ampfuse.html
If the end of the fuse is burnt a bit, the fuse holder may be not holding the fuse tight enough and the end of the fuses get burnt/scratched a little.
http://www.applianceaid.com/micro.html#common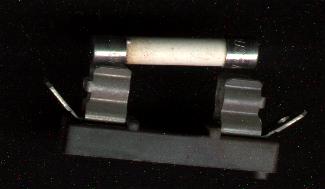 http://www.applianceaid.com/newpics/fuse_fuseholder.JPG
Fuse holder may need to be changed as well.
jeff Appliance Repair Aid http://www.applianceaid.com /
Martin wrote:

Look at the back plate and see what the ampere rating is stated. 1.3 kW divided by 120V is about 11 amps, so if this is the main fuse in the 120 V circuit it should be something less than 11 amps. If the fuse is for a higher voltage circuit it might be 5 amps or lower. The 250 V rating isn't really an indication of the voltage of the circuit. I would just buy a 5, 7, and 10A fuse and try each starting at the low end and use which ever one didn't burn out. Of course, something made it blow so you may have something else wrong. 34 years is really old, I would junk it. buy a new little one for $50.

posted on September 11, 2004, 1:56 am

I expect it has a rotating plate. That part may be the motor for it. You probably blew an interal fuse as well. I doubt that it would be worth repairing. Only one I would even consider repairing would be a combination convection and microwave.

posted on September 12, 2004, 7:40 pm

I just bought a new one for $68 at Walmart. I doubt you can find a repair person to repair yours for that. Buy a new one.
Ed Servicing appliances since 1975.

posted on September 14, 2004, 2:38 am
Steve Kissell wrote:

Forget it. Anything you do is likely to cost way more than a new microwave. If you really want to poke around, look at everything until you find something with a hole in it or a big black burn. But if you get it fixed it is still an old appliance and something else in it is likely to go.

posted on September 14, 2004, 2:49 am

stove
(they
If you do go ahead and tinker with this thing, keep in mind that a simple misalignment during re-assembly can render RF leakage and possibly injure future users. This is one repair that is best left to certified technicians or factory rebuilders. Microwave radiation is not something to be played with!