On Sat, 15 Dec 2012 09:05:55 -0600, G. Morgan wrote:
Thanks for noticing. You were the first to respond to my query, and you were the one who noticed that I had placed the rollers in the wrong slots for my other door. You also advised me when that second door was sticking in the tracks (ironically, that was resolved by moving the rollers!).
I took (almost) all your advice, e.g., to make sure the winding bars were seated well. And you explained why nobody works on the garage door when it's open, and your humorous color-code mnemonic was a good one, and you helped me understand those fancy spring-winding tools weren't needed.
I tried your relag suggestion; but it failed due to the lack of substantial wood below the anchor plate (which you and I were both unaware of).
You even were the first one (IIRC) that pointed me to the DDM Doors web site - which - after having read every single page - I would say is clearly the best on the net!
About the only suggestion I didn't take of yours was when you explained how you manage to unwind your torsion springs all at once! (Whew!)
I try to be responsive and to post pictures, and to pay it forward. While not everyone appreciated the effort, many have helped me on this endeavor and for that help I am indeed very grateful.
You and they make the USENET a fantastic resource for all of us.
BTW, even though Dan Musick's videos are all anyone would need, this 2-part real-time series from a young homeowner is pretty good: 1.
http://www.youtube.com/watch?v=dio-hYjXNzg
2.
http://www.youtube.com/watch?v=mR4VA_Qmw4M&feature=fvwp&NR=1
Another decent video that hasn't yet been mentioned is this one which shows in a humorous way how to lubricate your garage door:
http://www.youtube.com/watch?v=Y1lUm7koF2A
One of the best benefits of homeowner DIY is that you know the right spring combination was put on the door. This short video from the same company above shows how to do a balance test, and it even shows what happens to the opener gear when a repairman puts the wrong spring on (because that's what he had on the truck).
http://www.youtube.com/watch
? v=xI3yfyb6tc0&list=UUpNHXeWQMBHIIA6uqJ8bOlA&index=3
BTW, about the only GD company that says it's safe to do is this one: (They equate the task with changing a tire & they sell you the guides.)
http://www.youtube.com/watch?v=O92zPJxfdxY
But there is always more to learn.
For example, an enigma I haven't found the answer to on the net yet is why the OLD broken spring still shows latent winding spirals ... as if it's still wound up?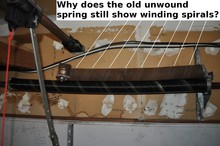 That paint on the old broken spring used to be a straight line; so why does the old spring still show 7 spirals as if it's still wound?
Also notice the winding spirals are in the opposite direction from the original. Why would that be?