On Fri, 07 Dec 2012 18:31:02 -0800, jloomis wrote:
Thanks for understanding.
I need help when I ask, and then, when I'm done, I've been on the net long enough to know to give back to the group (hopefully in spades), by paying it forward.
It was interesting though to read constantly about how dangerous it was, yet to not find in the literature very many documented examples of how exactly these people get hurt.
To be sure, I'm positive people get hurt every day (but most are likely commercial accidents due to common mistakes the professionals make when they're not careful doing something they do 10 times a day, every day).
For example, Dan Musick himself told me that he hurt his leg simply by stepping off the ladder onto the old spring on the floor. I'm sure he put old springs on the floor hundreds of times - but if you do that day in and day out, one of those days you're gonna trip on that spring and break your leg.
In addition, I'm sure that homeowners do some really really really dumb things, e.g., Dan Musick says on his web site that one of his customers unbolted the spring anchor plate without first untensioning the torsion spring! That customer was lucky to get out of that one alive!
And not everyone survives their dumb mistakes.
For example, I read this 2004 OSHA Fatality Assessment of a NY maintenance man who got killed in maintaining a commercial torsion spring. http://health.ny.gov/environmental/investigations/face/docs/04ny135.pdf
However, if you read that report closely, you'll see MANY compound mistakes piled up one upon another - with the result being his eventual death.
I even searched the bestgore web site expecting to find garage door accidents galore - but alas - it was to no avail.
If you look at garage door accident statistics, there are 20K injuries in American garages every year - but most of them appear to be to the consumer and not to the repairman working on the garage door. http://prlog.org/11649315-garage-door-injury-numbers-still-ugly.html (Plus, the statistics are a PR stunt for a garage-door company.)
This garage door company mimics those dire statistics: http://www.coveryourgaragedoortracks.com/statistics.htm
Another door company publishes vastly different "statistics": http://nhdoors.com/2010/06/injury_statistics / Here they say 10K people are hurt every year by having their fingers pinched off in the door panels or having the whole door fall on them.
Perhaps more reliably, this scientific study of shows 85 children killed or seriously injured since 1974 when garage door openers didn't reverse on time (notice the numerical difference with the manufacturers' statistics): http://www.ncbi.nlm.nih.gov/pubmed/8885959
And, perhaps most apropos, this study shows the percentage of DIY accidents: http://www.garagedoorchildsafety.com/injury_report.html Where DIY accidents were 1610 out of 13,325.
Personally, I suspect all (or almost all) the DIY accidents were from people doing dumb things like using screwdrivers to wind the springs, or using flimsy ladders, or unbolting the anchor bracket without detorsioning the spring, or failing to disconnect the GDO before working on the door and then someone pressed the button - or - even this - forgetting to gently move the black widow spider from the web-strewn upper door area!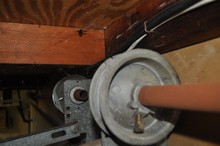 YES! That's 'my' black widow spider. I found it while I was setting up a safe and clean environment to work safely in on 'my' garage door repair!