On Sat, 26 May 2012 06:10:20 -0700, snipped-for-privacy@optonline.net wrote:
Thanks for the advice. I think I have plenty of room. I'm not sure 'why' they packed it all so tightly as they had plenty of room to spread things out.
For example, they put all the pipes coming and going in a single line. I would have staggered these pipes because the way they are, they had to add elbows all over the place to get around each other.
I was able to eliminate one elbow in my recent repair, but, notice I still had to add two wasted elbows on the new white PVC pipe which I wouldn't have had to add if the pipes were simply staggered six inches coming out of the ground: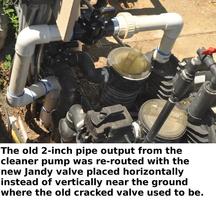 A simple double line would have saved a dozen elbows (each of which restricts flow).
Does anyone have pictures of 'their' pool setup by way of comparison?