On Sat, 26 May 2012 06:10:20 -0700, snipped-for-privacy@optonline.net wrote:
Thanks for the advice. I think I have plenty of room. I'm not sure 'why' they packed it all so tightly as they had plenty of room to spread things out.
For example, they put all the pipes coming and going in a single line. I would have staggered these pipes because the way they are, they had to add elbows all over the place to get around each other.
I was able to eliminate one elbow in my recent repair, but, notice I still had to add two wasted elbows on the new white PVC pipe which I wouldn't have had to add if the pipes were simply staggered six inches coming out of the ground: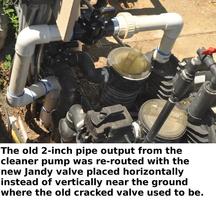 A simple double line would have saved a dozen elbows (each of which restricts flow).
Does anyone have pictures of 'their' pool setup by way of comparison?
On Sun, 27 May 2012 13:05:07 -0700, Bob F wrote:

Actually I did try the 45s but I couldn't get the angles right so I went with the elbows. Sigh.

posted on May 25, 2012, 6:08 pm
On Fri, 25 May 2012 10:49:10 -0700, Oren wrote:

UPDATE:
I ordered the 8-fingered wand but of course it will never arrive in time. So I spent another hour cleaning the filters with the garden hose, spreading the pleats one by one by hand. I started counting, but at about 200 or so I lost count and just gave up.
My reasoning was that the algae was gonna start again so I'd better get the filtration going - so I put both filters back in and started it up.
Of course, there's ANOTHER problem (see separate thread) ... but I do very much appreciate all the help because you guys, collectively, are like having a great team of professionals helping all of us!
Thanks!

posted on May 24, 2012, 8:55 pm
On Thu, 24 May 2012 13:01:20 -0700, Oren wrote:

I'm learning. I'm trying to do it today, but I'm learning.
The pool store suggested a spray called "Filter Blaster" but I can't see how any spray will get inside the pleats if a high pressure hose won't.
The pool store said that the water doesn't get rid of calcium and oil - but I don't think calcium and oil are my problem right now (almost nobody swims in this pool so there's no oil to speak of). Maybe once person swims for ten minutes a week or so and that's it. The darn thing came with the house. It's like having a pet you don't want! :)
Anyway ... another pool store said they make a finger spreader - which is kind of what I think I need.
The theory would be I'd brush the fingers along the folds while spraying the hose at the same time. I guess...

posted on May 24, 2012, 8:59 pm
On Thu, 24 May 2012 13:09:03 -0700, Steve B wrote:

The filter is a little ragged. It seems to be best to aim at an oblique angle, so as to just blow off the green slime.

I guess I should have explained better. The green stuff comes off rather easily. It's just that there are something like a thousand (or more) folds.
So the problem appears to be mechanical or solvent.
Mechanical: How to get INSIDE each of a thousand folds!
Solvent: How to dissolve the stuff without having to get inside each of a thousand folds.

That might work. The problem though is that the folds are densely packed so the problem is spreading the folds, somehow.

posted on May 24, 2012, 9:39 pm
On Thu, 24 May 2012 13:01:20 -0700, Oren wrote:

I found this based on the advice so far: http://www.amerimerc.com/pool_supply/filter_cartridges / water_wand_cartridge_cleaner.asp
Here's a picture of the thing in action: http://www.amerimerc.com/pool_supply/filter_cartridges/images/small / water-wand_large.jpg

posted on May 25, 2012, 2:05 am

I think you should be spraying from the inside facing out, not on the outside facing inward. Also, some detergent mixed in with the water might loosen things up a little easier. Or, soak it overnight in a mixture of water, bleach, and detergent and then flush it. Sounds like it got too bad before you started worrying about it.

posted on May 25, 2012, 6:02 pm
On Thu, 24 May 2012 19:05:14 -0700, hr(bob) snipped-for-privacy@att.net wrote:

I think that's the 'real' problem!

posted on May 27, 2012, 4:37 pm
On Sat, 26 May 2012 22:54:06 -0700, Bob F wrote:

Next time, I think what I'll do is use the tri-sodium phosphate (or dish detergent) and soak the filters while they're still inside the bubble.
That would soak the bottom half.
Then, I think, I can flip them and soak the other half.
Then I can wash them in or out of the bubble.
Lesson learned for next time!
Today I'll be fixing the myriad leaks in the lousy Fafco solar panels!

posted on May 28, 2012, 4:54 am
On Sun, 27 May 2012 11:54:55 -0700, Bob F wrote:
The larger filter diameter is pretty big.
Let me google for the diameter given the part numbers: Sta-Rite System 3 Model S8M150, 259 sqft cartridge 25022-0203S 191 sqft cartridge #25021-0202S Total = 450 sqft filter@0.28gpm/sqft = 125 gpm@50psi max.
OK. It looks like it's 18 inches in diameter and 20 inches long:
(Amazon.com product link shortened)
/>/ dp/B004CTVXFQ
Large Filter (25022-0203): 259 Sq.Ft , Diameter: 18.25", Length: 20-1/8" Small Filter (25021-0202S): 259 Sq.Ft , Diameter: 25.5", Length: 12.5"
That's a big bucket! :)
posted on May 28, 2012, 6:27 pm
On Sun, 27 May 2012 22:59:05 -0700, SMS wrote:

Wow. Mine is 20 psi at the start!

I think they use tri sodium phosphate - whatever that is. Googling, some said dish detergent works too.