On 11/07/12 9:16 PM, Vic Smith wrote:
The B&D I just tossed has a removable tank. Unfortunately is was a bad design - long and flat. When you filled it for 10 - 12 cups, the water sloshed out of the large fill hole when you inserted the tank into the machine. The water then dripped out the sides of the tank holder onto the counter.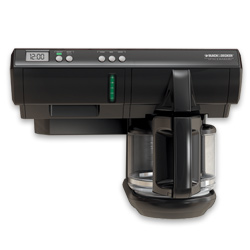 http://infiniteelectronix.com/images/products/blackndecker/SDC740B.jpg
> The thermal carafe was crap though, and that's why I finally tossed > after about 5 years. They don't make that model any more. > You're on you own I think. And it seems half the brands I've had have > had a poorly formed spout on the carafe, and drip.
The original carafe was fine. No drips. Then we got a recall notice about the danger of the handle falling off and traded it in. The new carafe leaked from the seam between the plastic rim and the glass. You could actually lift the plastic rim up a bit. Don't know if it's supposed the glued on or just tightly form fitted, but the new (safer) carafe was not water tight between the glass and the plastic rim.
The other PITA thing with that coffee maker was that the buttons for setting the clock and programming the unit were backwards. Minutes on the left, hours on the right. What were they thinking?
Oh yeah, it never kept the coffee hot enough for us either.
wrote:

Yeah, you can tell by looking it's not a good tank design for transport/insertion. Mine was tall,deep, and narrow. Easy to hold, no sloshing, easy insert, and never leaked. Of course it didn't really "save space" with everything hanging down far enough that a toaster or something would slide under it. More like a fixed object getting in the way. Wife wanted it.

posted on November 8, 2012, 2:02 pm

My previous "space maker" was probably just like yours with a square tank. I forget why I replaced it, but it was old and something went bad on it that I couldn't fix. The replacement was the style I recently tossed and at first I thought the resulting extra space under the tank would be nice. Unfortunately, with all the dripping, the only thing we kept underneath it was a cloth placemat to absorb the water.
I like the Gevalia with the thermal carafe that we're using now (we got it free many years ago with a order of coffee) but it only does 8 cups. It makes good coffee and the thermal carafe keeps it fresh, but it doesn't have a timer. I also want to keep it as a spare and as a "travel pot" when we go cabin camping, etc.

posted on November 8, 2012, 3:47 am
On Wed, 7 Nov 2012 13:35:32 -0800 (PST), DerbyDad03

Look for a Bunn commercial model. A-10 is about $325 or so.
Not plumbed in, but my wife would not part with our Technivorm Moccamaster for good coffee. She never has spills with a good pouring container. It has a wide receptacle for the water.

posted on November 8, 2012, 3:50 am
On Thu, 8 Nov 2012 00:09:24 +0000 (UTC), DerbyDad03

Our pot makes coffee in 6 minutes. You flip the switch, take a leak, put your socks on and the coffee is ready.

posted on November 8, 2012, 4:33 am

Speed is not an advantage when making coffee. If the water is not in contact with the grounds long enough, you won't get as much flavor. Water temp, filter shape, grounds size, brew time, etc. all have an impact on the quality of my favorite beverage.

posted on November 8, 2012, 10:16 am
On 11/07/2012 08:33 PM, DerbyDad03 wrote:

That's why I make my coffee manually, by adding grounds to a pot of water taken off of the stove just after it comes to a boil.
They (the grounds) sit in that water while I dither for a few minutes, then it all gets filtered *quickly* through a gold filter.
It does take a bit more work than a coffee make, I will admit, but the result is something you cannot achieve with a machine.
Jon

posted on November 8, 2012, 6:40 pm
On Thu, 08 Nov 2012 02:16:49 -0800, Jon Danniken

This almost sounds like the old Perculator method of making coffee.

posted on November 8, 2012, 9:25 pm

Actually, Jon's method is closer to the French Press method than percolated (not perc-u-lated) coffee.
Percolated coffee still uses a basket and strainer, sort of like a drip coffee maker, but the difference is that a drip maker drips plain water through the grounds while a percolator drips (recycles?) coffee through the grounds as it boils up through the stem.
A French Press forces water through the grounds with no filter used. See here:
http://whatscookingamerica.net/Beverage/FrenchPress.htm
Both Jon's method and the French Press method is known as "steeped" coffee. Jon filters his grounds out, while a French Press simply pushes them to the bottom of the pot.
See here for more ways to make coffee:
http://www.coffeeteawarehouse.com/coffee-brew.html