On 11/07/12 9:16 PM, Vic Smith wrote:
The B&D I just tossed has a removable tank. Unfortunately is was a bad design - long and flat. When you filled it for 10 - 12 cups, the water sloshed out of the large fill hole when you inserted the tank into the machine. The water then dripped out the sides of the tank holder onto the counter.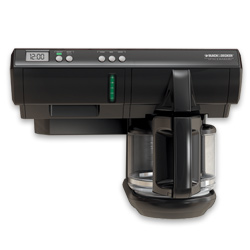 http://infiniteelectronix.com/images/products/blackndecker/SDC740B.jpg
> The thermal carafe was crap though, and that's why I finally tossed > after about 5 years. They don't make that model any more. > You're on you own I think. And it seems half the brands I've had have > had a poorly formed spout on the carafe, and drip.
The original carafe was fine. No drips. Then we got a recall notice about the danger of the handle falling off and traded it in. The new carafe leaked from the seam between the plastic rim and the glass. You could actually lift the plastic rim up a bit. Don't know if it's supposed the glued on or just tightly form fitted, but the new (safer) carafe was not water tight between the glass and the plastic rim.
The other PITA thing with that coffee maker was that the buttons for setting the clock and programming the unit were backwards. Minutes on the left, hours on the right. What were they thinking?
Oh yeah, it never kept the coffee hot enough for us either.