Hi there, thanks for reading this thread.
I have a really old American Standard brand toilet, which is a one-piece (made in 1935??) and you could see some photos of this toilet at http://www.picturetrail.com/toilet2006 /
This toilet has been leaking for a while (slow leak to the bowl), and I'm suspecting that it is either the flush valve (the surface of the disc and the brass valve) is not fully sealed, or it might be the three tiny cone-shaped washer (something like this: http://www.doityourself.com/invt/4244851#Specifications ) that is just too old and corrupted so the water simply sip through the washer area (or the valve area). However, in our local plumbing supply store I could only find American Standard #6 style of flush valve repair kit (see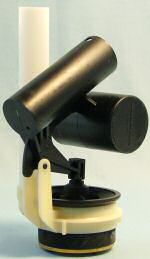 http://www.plumbingsupply.com/images/am_stand_flushvalve_47049.jpg
), instead of the #4 style (see
http://www.plumbingsupply.com/images/am_stand_flushvalve_47086.jpg
), I wonder if these two style of repair kit are interchanable?? The diameter of the valve base of these two different styles seems to be the same. Any comments? Thanks!