Jet DPs are tan or white, right? Like this: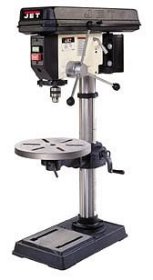 http://www.irvansmith.com/images/jet_drill_press_JDP14J.jpg
Grizzly DPs look sorta like this:
http://www.northcoastknives.com/GrizzlyDrillPress1.jpg
Would like to see your pics... Also, try asking in rec.crafts.metalworking as more DP people might be there than here IMHO.
Regards, Joe Agro, Jr. http://www.autodrill.com http://www.multi-drill.com V8013
In or near NJ and ride a Motorcycle: http://tinyurl.com/4zkw8
Young Life? eMail me!