jo_jo wrote:

On my shelves, I made the back slightly taller than the unit (Maybe about 1/2-3/4"). So I was able to drill the screws in over the "top", and thus they are unseen.
The plan was to eventually build a crown molding top for it, but that got pushed to the end of the priorities, so it may never happen.
Anyhow, the screws are not visible, because the unit is 7' high and the top blocks the view of them. Just a thought you might be able to use.


I'm with you now. That would seem to work. Mine will be fairly high as well, and hell, since I'm barely 5'9 I will never notice! I don't plan on crown molding, but will probably top the piece with the 5" pine boards like the floors and have them overhang the unit by about a 1/4 inch on the two visable sides (this unit sits in a corner, so only the front and left sides will be visable. Thanks!

posted on January 9, 2007, 1:22 pm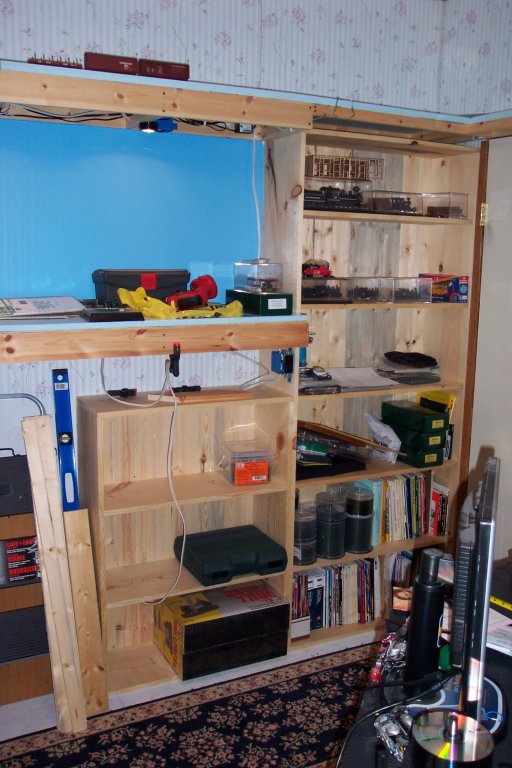 http://www.frontiernet.net/~blkbear/Home/small%20bookcase.jpg
The tall bookcase is resting on the floor, and screwed into the side wall and layout benchwork (which is screwed into the studs on that wall). The smaller bookcase is screwed into the big bookcase, and will be attached to another smaller bookcase to its left (once it is built). This will continue all the way to the left corner of the room, where it will be anchored again into the side wall.
These bookcases are rock solid. Even my weight pulling against them can't get them to budge.
jo_jo wrote:
posted on March 8, 2007, 4:55 pm
The way I have done it is to get a small piece of angle iron, screw it to the top of the bookcase and then to a convenient stud (more or less in the center of the case) Dave