On Sun, 26 May 2013 00:08:05 -0700, DD_BobK wrote:
< OT warning >
My dad taught me that if it can't be explained, it isn't understood. For example, what a tangent?
Last week, a friend of mine wanted to doublecheck drawings for trapezoidal-shaped windows where he needed an overlap of 1/2 inch all around for the window glass dimensions: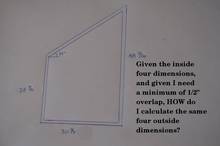 He had the numbers - he just wanted to doublecheck them.
He asked me how, and I came up with this simple formula for the upper overlap (all other dimensions being purely additive) given the symmetry of parallel lines, geometric angles, & high-school trig: Side1=tangent of (90° + angle°)/2 * 1/2 inch overlap Side2=tangent of (90° - angle°)/2 * 1/2 inch overlap
He checked all his drawings with a calculator proclaiming the answer correct. He then googled what a tangent was, and apparently he got the answer that it's the slope at any point of the curve.
He called me back, asking "What's a tangent?" because the fact that it's the slope of a curve doesn't help him understand what it is. Sure, he saw the graph of a tangent on the web - but that didn't help him understand. You know what I told him?
I said draw a one-inch right triangle with a 45° angle & note the sides have a ratio of 1:1. The tangent of 45° is simple the ratio of the opposite side over the adjacent side. Now change the angle to 34° (which was his angle), and you'll see the same ratio holds true. So you have an equation where if you know two of the three components, you can solve for the third. He understood.
I could have waxed and waned with using unit circles and definition of the slope and describing sines over cosines (like math teachers do); but, the answer (for him) was as simple as the relationship of an angle to a ratio.
Note: He then tried to apply the tangent to degrees in Microsoft Excel, which only uses radians, so I had to explain radians to him; but I'll just leave that explanation to your imagination. :)
Point is: If it can't be explained simply - it's not understood.
Back on topic, now that I know the O-ring sizing scheme, I can doublecheck my numbers.
More importantly, for the o-rings that I don't already have the trade size for, I first measure the cross section and that already tells me the series (as long as it's not a boss seal). Then I measure the ID & I have the trade size. It's that easy. :)
Plus, this method works for all o-rings in the household! Learning is all the fun (the rest is just work).