On Tue, 04 Jun 2013 13:03:03 -0400, gfretwell wrote:
Mine are about ten times that cost, so it may greatly depend on the size of the OP's pool: - Sta-Rite System 3 Model S8M150, - 259 sqft (large) cartridge P/N 25022-0203S ~$250 - 191 sqft (small) cartridge P/N 25021-0202S ~$200
(Amazon.com product link shortened)
Still, you're wholly right that cloth lasts years; and I only clean mine once a year (although I probably should clean it more often). Even then, I just use a garden hose, although I'm going to rig the bucket for an overnight soak the next time I try it).
Mine is at least 3 years old, and, the only wear I see (despite Oren's objections to my optimistic assessment) are from when I used the 2600psi pressure washer on the pleats.
The pressure washer was just too strong (even with the tamest nozzle I could put on it).
Nowadays, I just use the 60psi to 80psi garden hose with a brass nozzle on the end (all the plastic nozzles broke within two years!). Next time they'll soak in Dawn.
wrote:

I have a 100 sq/ft filter and it takes about 6 months to get a 10 PSI rise. (15,000 gallons). I assume the screen cage cuts down a lot on the dirt level.

posted on June 4, 2013, 6:08 pm
On Mon, 03 Jun 2013 15:36:08 -0400, Pointer wrote:

< slightly off topic >
If you do go for a cloth cartridge filter, I haven't yet been able to figure out whether they can be sourced by trade size (like O-rings can).
If you do buy a cloth-cartridge style replacement, let us know if there is a cross reference to trade sizes, which would help everyone if it exists.

posted on June 5, 2013, 1:58 pm
Pointer wrote:
My Hayward DE filter has been going since 1986. The only problem was the motor stopped working about 8 years ago on the morning of July 4th when we were going to have a party that day. A quick trip to the pool supply store had it back in business in time. Of course, it was made in America back then. Who knows who makes them now.
--
Bill
In Hamptonburgh, NY

Click to see the full signature.
posted on June 5, 2013, 3:28 pm
On Wed, 05 Jun 2013 09:58:21 -0400, willshak wrote:

I tried to buy a motor at Leslies and they don't stock 'em. They'll order them, but don't stock them. Did yours have an entire correct motor in stock?

posted on June 5, 2013, 4:11 pm
wrote:

My pool store has a selection of complete pumps in stock but not just the motor. They do have some motors in the warehouse and YMMV in how long it might take to pull it and ship it to the store. It is usually the next day. I have collected a pretty good assortment of motors and pumps from neighbors and rebuilt them so I am set.
One suggestion is to use unions where the pumps connect so it is an easy swap out. That is also handy if you are in a place where you "close" pools. You can store them in the house/shed/garage all winter.

posted on June 5, 2013, 6:39 pm
On Wed, 05 Jun 2013 12:11:05 -0400, gfretwell wrote:
That's a good idea, rebuilding spare motors: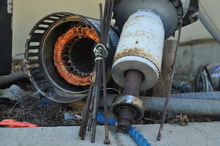 I've always wanted a 2 HP bench grinder, for example! :)
Thanks to the help here, I found out it's easy to stock the parts of my AO Smith (now Century) motors for rebuilding: 1. 6203-2RS double-sealed bearings (two per motor) 2. 8x32" threaded SS rod (four thru-bolts per motor) 3. TefGel or equivalent PTFE dissimilar-metal anti-seize
Indeed!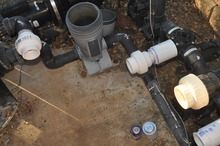 Thanks to folks here, I took their advice and planned ahead by piping my pumps the same up to the unions, so I can even more easily swap them out, if/when needed: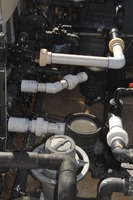 posted on June 5, 2013, 6:49 pm
wrote:

I did re purpose a 1HP pump motor to spin up a Gast air pump to use as a hookah for the kids to play with in the pool.
http://gfretwell.com/ftp/Petra%20dive.wmv