For whatever reason, the corners of the plastic/glass Kenmore Coldspot (model 106.59422801) refrigerator shelves keeps breaking on the family as shown in this picture taken today of my home-made pumpkin pies for Turkey Day: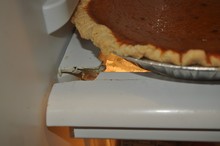 Does this shelf breaking happen to you?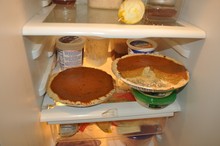 I think it broke not from weight being placed upon it but from being the support for the drawers below it at one point ... but either way (weight or drawers), the shelf appears to be poorly made.
Do you have any good ideas for shoring up the corners?