Micky wrote:
Electrolytic capacitors can be NP (Non-polarized) or they can be the polarized type. If working your magic with the battery, you want to charge the capacitor according to the polarity symbols. Plus on the battery goes to plus on the capacitor. If you reverse the power to a polarized capacitor, it can blow up on you. It will fill the room with black sooty deposits floating in the air, if that happens. (Someone in electronics lab did the usual trick, reversed insertion, as a joke. So we got a demo of what a mess it makes.)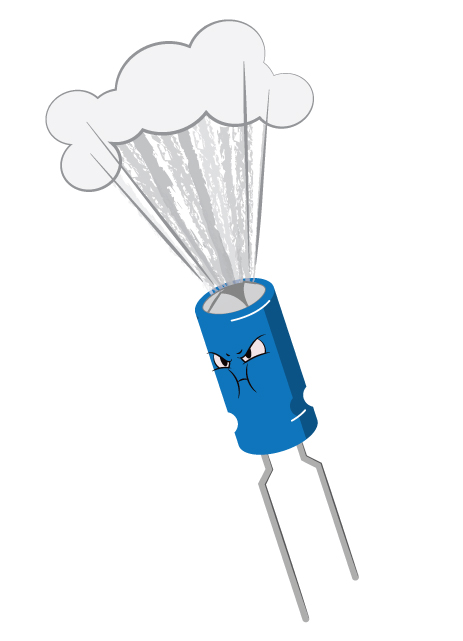 https://cdn.sparkfun.com/assets/a/5/6/1/6/525458c8757b7f28258b456a.jpg
There is a little info here on NP capacitors. And how to make one. It isn't mandatory to use an NP capacitor in this application. You might use an NP cap in an amplifier with symmetric powering (+/-15V rails maybe). Whereas a cheap computer speaker probably runs off one rail, and so a polarized cap would always be charged correctly to some sane voltage.
http://electronics.stackexchange.com/questions/21928/can-you-make-a-non-polar-electrolytic-capacitor-out-of-two-regular-electrolytic
The home made amplified speakers on my new computer, are DC coupled. It's a bridged amp, using two amp chips, and that allows removing the cap entirely. As the circuit is so well balanced, less than 10mV DC appears across the speaker when idle. (I was really impressed it came that close to zero!)
This schematic shows a polarized capacitor in series with the speaker. Schematic is on page 3. This is a single rail amplifier (+13.2V nominal). The purpose of the capacitor, is to prevent DC from appearing across the speaker terminals. (So the cone doesn't have a decided mechanical bias while running, preventing full travel.)
https://www.quasarelectronics.co.uk/kit-files/electronic-kit/3047.pdf
On page 6 here, you can see the "bridged" configuration. One amp goes up in voltage, while the other one goes down. Giving more power. And, as a bonus, the DC output of the two amps is matched closely enough, when the amplifiers are idle, there is no net DC across the speaker terminals. The large electrolytic in series with the speaker can then be removed. So if the amp on page 6 was driving your speaker, the big capacitor would not be inside the cabinet.
http://datasheet.digchip.com/670/670-00274-0-UTC_TDA2003.pdf
My amp is actually a stereo kit, so there are a total of four amp chips to produce stereo. Yes, the circuit still has electrolytic caps, just not 2200uF ones. The volume controls, while pretty to look at, I set them once and never dialed them again. I use the volume control on the computer for that.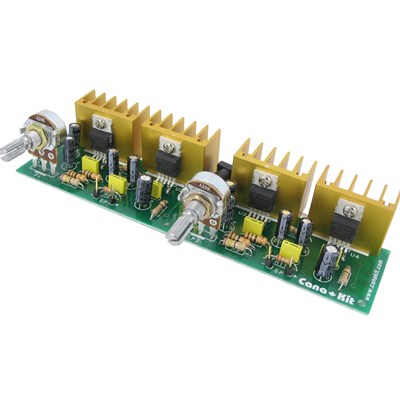 http://www.canakit.com/Media/400/1051.jpg
Paul