On Wed, 27 Feb 2013 09:40:54 -0800, snipped-for-privacy@sbcglobal.net wrote:
Wow. The real Jeff Liebermann (two n's and i-before-e) on alt.home.repair.
I'm impressed. You're the expert in the SC mountains for wireless radio. Glad to have you here.
I am VERY FAMILIAR with this persistent "white stuff". I have no idea WHAT it is - but I have it too.
It's either a chemical coating or it's a mold-like growth. It does seem to be hugely persistent, in that if you don't scrape it away, it will last (seemingly unchanged) forever.
I remember segregating my white-coated tools a while ago, but I no longer do that once I manually scraped them (mostly) clean.
I seem to remember that the white stuff "infected" other tools, but, it's no longer doing that (after twenty years). But, that white stuff you see in this photo is easily twenty years old!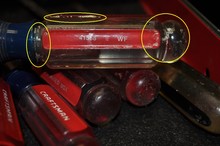 It had coated that screwdriver handle with a white persistent but powdery on the outside surface coating just like the picture the OP posted over here:
http://802.11junk.com/jeffl/pics/drivel/plastic-rot.jpg
I considered throwing the screwdrivers away, but, my sense of tool preservation had me soak that screwdriver maybe 15 years ago in all sorts of horrid solvents (acetone, bleach, acid, etc.) in my attempts to clean it off.
If anyone actually KNOWS what this white stuff is, I'd be curious!