Thanks Jerry - I was going for the wrong trim, aiming for the edge trim. Your clue was helpful. Thanks to Jeff for this photo that clinched it: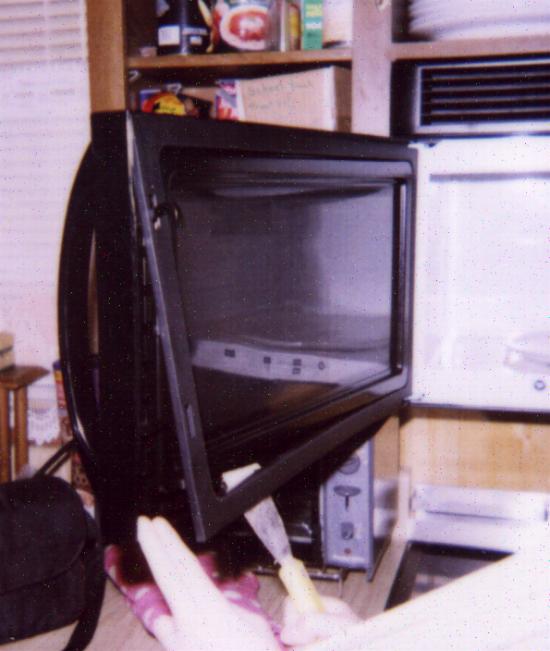 http://www.applianceaid.com/image/handle-screws.JPG
This is what I did: It turned out to be a pry thing. Open the door and look at it from the back side, the side that faces the microwave unit when it is closed. Now, that piece of plastic that goes all the way around the window portion and faces the door rear is what pries out, not the window and not any piece that is on any side of the door. Take a thin putty knife and carefully jam it in between the very top molding and this plastic piece, about 1/3 of the way from the left top corner. Press it in about a half inch or an inch or so. Then raise the knife handle so you are actually pushing down on one of the clip tabs that snaps this piece into place. With the right touch it will begin to pop out when that clip is pushed down a bit. Then work your way around until enough of it is off so you can get to the handle screws.
The screws that hold the handle in place screw into a post molded into the handle which sticks into the exterior door frame for stabilization. My problem was that the bottom post had broken off with the screw. Lucky for me it was the bottom one as the screw hole extends further into the door handle, allowing me to just find a longer sheet metal screw of the same thread diameter in my left over screw bin and use it in place of the screw/post that broke off. If it was the top screw I would have been out of luck as where that post would have broken off has no depth. I used an appropriate sized washer with the screw so it did not pull through. Once I tightened it up real well it seems just fine. When I was done the plastic piece just snapped back into place and looks like I never did anything because I was careful in the prying. Easy as cake once one knows the pry trick.
Total cost: $zero.
Hope this helps someone. Tomes
door
handle
not