Been there, done that! (-: Ratshack used to make a serviceable magnifier with a small higher mag inset lens and a battery powered illuminator. About 6 bucks a piece and worthless after the take one hard fall. Also, the battery contacts and switch are cheap sheet metal and they fail after a while but I wouldn't (actually couldn't!) live without them in each and every room of the house. Paint pens work beautifully on them, FWIW, but they're plastic and I assume the solvent eats right into it, assuring good adhesion.
I have an even older friend who's too vain to wear his glasses or use a magnified and lately he's burned up a hard drive putting the molex *keyed* connector on backwards, set DIP switches wrong by not realizing he was looking at them upside down and broken a ribbon cable with again, a keyed connector on the end by trying to connect it backwards. Well, he didn't exactly break it, he worked at the connector so hard trying to fit it the wrong way that a sharp metal RF shield edge just sawed right through it.
Eventually, he'll get the idea that being able to see is worth the indignity of wearing bi or tri-focals. I hope. (-: I've gotten the message from Mother Nature loud and clear. For now. I hear that hearing is going to be the next thing to go. What's that old joke . . .?
-- Bobby G.


Tried that, but these damn sockets have incredibly finely etched lines and no paint to speak of sticks.
Thanks for your input,
-- Bobby G.

posted on November 3, 2009, 6:55 pm
Use a sharpie marker and after it dries, cover it with clear tape.

posted on November 4, 2009, 4:29 pm

That's probably going to be the ultimate solution - that or adding another layer of clear tape on top of the labelmaker tape.
Thanks, Mike,
-- Bobby G.

posted on November 3, 2009, 7:48 pm

re: "...so that they can be read in dim light by old fogeys?"
Others have already suggested reading and/or magnifying glasses.
I'll suggest turning on a friggin' light! ;-)
(See ya..I'm off to the dollar store for reading glasses and a flashlight.)

posted on November 3, 2009, 8:03 pm
DerbyDad03 wrote:

One handy device inherited from a dedicated handiperson is a fluorescent lamp with a magnifier in the center. PIA if you need to move it, but the lighting and glasses bit doesn't always work.....my condo has large windows on all sides but the lighting is often not sufficient for older eyes and fine work. New prescription, so that's not an issue.

posted on November 3, 2009, 8:10 pm
wrote:
I have a lamp similar to this mounted on my workbench. Mine has a flip- up cover to keep dust off of the magnifying glass.
And yes, I have used it to determine socket size many times!
Also great for removing splinters, especially tiny metal ones.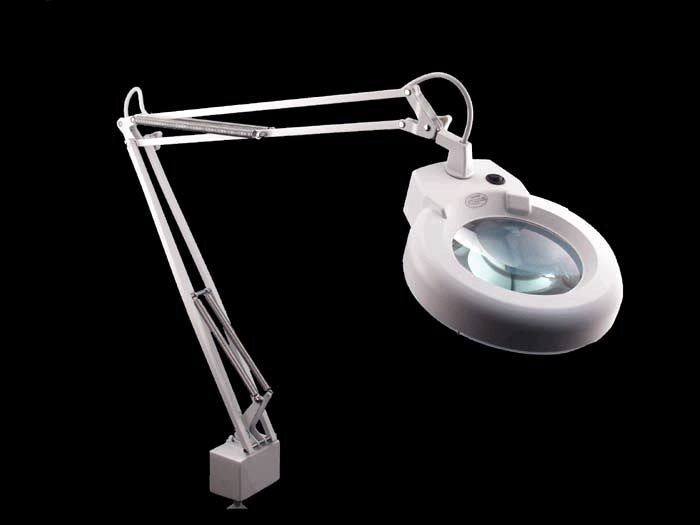 http://www.nettally.com/palmk/MagnifyingLamp.jpg
posted on November 4, 2009, 4:55 pm
news:6e542567-ad5e-487c- <stuff snipped>

That's a great idea. I'm always having to wipe it down before using it. I could easily make one out of a coffee can lid and some velcro.
Thanks for your input, DD3,
-- Bobby G.