posted on June 10, 2010, 2:06 am
On 6/9/2010 11:02 AM, jamesgangnc wrote:
The aerator is clean. I'll definitely check the flow, but wiggling the spout on the faucet caused the water to flow more freely. At least I need to take it apart and clean it.
New problem: The faucet cutoff valves are extremely hard to turn. I mean HARD. I almost couldn't get the hot water to turn off, and I could not get the cold off because the handle is so close to the drain pipe.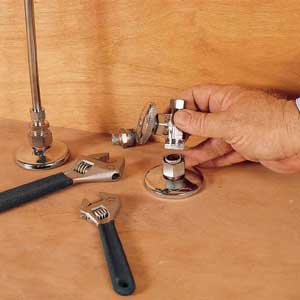 http://img2.timeinc.net/toh/i/a/plumbing/sink-shutoff-valves-04.jpg
I'm going to have to turn off the water supply to the house and remove these completely to find out why they are so stiff. I'm assuming they have mineral build ups that need to be cleaned, or the valves need to be replaced. They could certainly be part of the problem.
I'm curious. Why are these valves used instead of ball valves? Cost? Ball valves are a lot easier to operate since the water is either all the way on or all the way off.
Maybe I'll get one of these, or something like it.
http://www.gordonwrench.com/tool.htm