Triple7sss:
I can't help thinking that the reason why the dryer is working better but tripping the breaker when the duct is going into that plastic vent box is because the duct length involved is shorter and straighter, but the humidity in the air is going up.
The dryer duct might not necessarily be clogged. It may be that the dryer duct is simply imposing too much resistance to air flow.
777sss, in the picture below, can you tell us which kind of flexible duct you have connected to your dryer and about how long it is before it gets to the vent cap on the exterior of your house?
[image: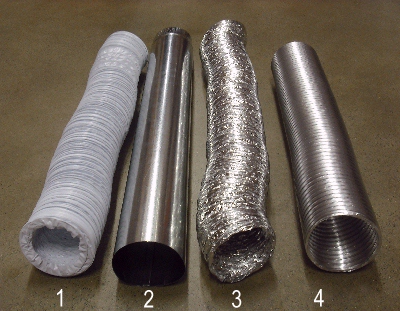 http://www.eureka4you.com/HOME%20-%20HOME%20-%20HOME/Index-Plumbing/used/VentMaterial.JPG
]
(If it's #1, it shouldn't even be used on a dryer because it's a fire hazard, and ducts like these have so much resistance to air flow that they'll only work semi-reasonably well if the path from the dryer to the vent cap is short and straight.)
It could be that the problem with the dryer is entirely due to the length and type of duct it's being expected to blow air through, and the tripping of the breaker is because venting the dryer through that little plastic box is just putting all the moisture from the clothes into the air, and that increased humidity makes the air more conductive to electricity.
I recall getting electrical shocks from the static electricity that built up on my body when I was a kid and I rubbed my shoes on the carpet in the house I grew up in. But, that only happened in the winter, and I subsequently learned the reason was because in winter the outdoor air comes into our houses and warms up, thereby sending it's relative humidity way down. In the summer, the indoor relative humidity is higher, and it's all the water molecules in the air that dissipate the static electricty on your body into the surrounding air. Dryer air is a better electrical insulator, and so you have to touch something grounded to remove the static electricity that builds up, and doing that give you a small shock.
I'm thinking that with enough humidity in the air and a great big 240 volt heating element in a dryer, you could have enough conductivity through the air to the metal cabinet of the dryer to trip the breaker. I know it sounds kinda far fetched, but that's what I keep coming up with.