On 26 Sep 2004 21:28:40 GMT, Ignoramus12690
Using photoshop, or any other graphics program, text edit the dimensions on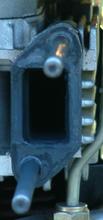 http://igor.chudov.com/tmp/muffler/-THUMBNAIL.dscf0014.jpg
or a copy of it. I need to know the size of the hole, both height and width, and I need to know where the centers of the bolts are located.
Using a common point..hummm left bottom corner, I need to know exactly where the bottom and top bolts are located in relationship to that bottom left corner. Measure to the center of each bolt. If you have to, use a small perfectly square chunk of something as a reference square. I also need to know the diameter of those bolts and how long they are, and how long the unthreaded portions are.
I should mention..that there is not a hell of a lot of material in the area of those bolts, so you MUST make a support member to hold the muffler to the genset frame, else the vibrating lever called the muffler will simply crack out the aluminum housing around the exhaust port.
In fact..Id use some small steel flex line from the adapter and run it to the rigidly mounted muffler. Cut a piece of bar or at least 3/16" x1" flat stock, long enough to be bolted horizontally to both of the cart frame uprights and at least 6" away from that plastic fuel tank. Make two, and put one on the other side, with a couple pieces of All Thread and it will make a dandy place to hang your extension cords when not in use.
You can secure the muffler to the horizontal flat stock with a couple of standard hose clamps.
I also need to know the ID of the split end of the muffler. That is the input end I think. I can make you an adapter to fit whatever it is you are going to use for flex line. Perhaps you can scrounge up a 12" length of 1" STEEL flex conduit. If not..Ill see what I can find. Flex conduit is not ideal for this..but it will work for light duty such as this. 3/4" might work..shrug..might be a bit more backpressure than is good.
Give me the specs and Ill use a dull ax to shape something for you.
Gunner
Confronting Liberals with the facts of reality is very much akin to clubbing baby seals. It gets boring after a while, but because Liberals are so stupid it is easy work." Steven M. Barry