I have a semi-circular area inside of my semi-circular driveway, it has a tree in the middle. The perimeter of this area is about 40 feet. Currently I have pressure treated 4x4 used as a border around this area. After a few years in the hot and humid Miami sun, those are partially rotted and when I have severe rainstorms and the street is flooded, those 4x4 lumbers would float into the street. I anchored them with some rebars but still they move and shift.
So I am going to remove them and replace them with a stone wall. I am thinking of using something like this: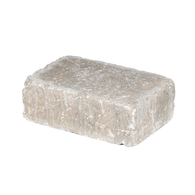 http://images.lowes.com/product/converted/742786/742786305220md.jpg
Because my driveway is not level, the top of the arch is higher then the "baseline" by about 14-16 inches. So I figured I need may be two layers of the stones on the high side, and four layers of the stones on the low side so that the border would be at an even elevation all the way around. I will set a couple of stakes and pull a string to guide me.
Now to the questions.
(1) I am going to dig down a few inches, and then fill and level with a layer of sand. Now would you start at the high side or the low side? My concern is that as I dig down in some spots I will hit a shallow tree root, and that would cause a problem as far as making everything level. I wonder which side I start would minimize any surprises. (2) I was told that I do not need mortar that these stones are heavy enough and my wall is short enough they would just stack. However, what if rain comes and wash out some sand below would the wall start to become uneven? If I don't use mortar between each piece of stone, would it be at least desirable to have a mortar footing (instead of sand)? or I should use sand below and put mortar between the stones? (3) What is the best way to stack the stones where there is a slope? I cannot create a sand base where it is sloping the steepest. Do I have to shape the ground there like a series of steps? I think I have to, but in that case, I would not be able to use a sand layer underneath.
Thanks in advance for any advise,
MC