On Fri, 24 May 2013 22:17:10 -0500, ChairMan wrote:

You know, I once had to replace a few hundred irrigation sprinkler heads and I didn't know how to do that.
So I hired a friend who owns a landscaping company, at about $300/day, with the stipulation that he teach me, and *both* of us replaced almost two hundred sprinkler heads in addition to repairing the valve electrics.
Most of the sprinkler heads were buried, so, we'd fix one, and another would pop up out of the mud.
I learned a lot! For instance, there are *many* types of sprinkler heads, and some are drip, others spray, some adjustable, others set, etc.
So, your suggestion *is* viable.
Yet, another time the pool was a swamp, and I was in line for a church picnic at my house. I hired another friend, at $60/hour, to help and teach me. Guess what? I learned almost nothing from that guy. Dunno why, but, he just replaced stuff, and threw stuff in the pool and vacuumed stuff, but he had no concept of the delights in the details. He just wanted to get the job done. That was a waste of my money.
The problem, of course, would be to find a plumber like the first guy, and not like the second guy, on short notice.


Good for you and thank you. That is the way to learn, but are you sure he is/was a friend at $300 a day<g>

Not all teachers are *good* teachers I can tell you the secret to keeping a pool clear is removing phosphates. Use PhosFree, PoolPerfect or any commercial available phosphate remover and your chemical usage will decline. No phosphates = NO ALGAE = clear water. I stop putting chemicals in my pool in about October and just use a remover through the winter and start up in the spring with clear water

There are lots of hotshot "drain" cleaning services that do just that. Even though I have an electric drain cleaner, a closet snake and assorted drain clearin stuff, when my kitchen drain backs up and its cold, rainin and down right shitty outside, I'm calling them!!!

posted on May 25, 2013, 6:11 am
On Fri, 24 May 2013 22:17:10 -0500, ChairMan wrote:

I hope you also noticed that, while I don't know anything at first, that I research & report back findings on most topics - and - that I update with lessons learned - and that I not only *do* the tasks and take *most* of the advice, but that I also *document* the process, both the good and bad, via numerous photos.
How many other posters you complain about who are clueless do all that?
Anyway, now that I have the luxury to research how to clean a drain, I see a *lot* of mention of chemicals, which I always deprecated as miracles in a jar - but apparently they must work:
WikiHow: How to Unclog a Slow Shower Drain http://www.wikihow.com/Unclog-a-Slow-Shower-Drain Synopsys: Use Dawn dish detergent
eHow: How to Unclog a Shower Drain http://www.ehow.com/how_2037771_unclog-shower-drain.html Synopsys: Start with baking soda + vinegar
Lifehacker: How to Unclog a Drain http://lifehacker.com/5824780/how-to-unclog-a-drain Synopsys: Start with boiling water
Howtounclogadrain.com: How to Unclog a Shower Drain http://howtounclogadrain.com/inthehome/how_to_unclog_a_shower_drain Synopsys: Start with dish soap and hot water
theunclogblog.com: How to Remove Hair that's Clogging Your Shower Drain http://theunclogblog.com/2012/01/how-to-remove-hair-thats-clogging-your-shower-drain.html Synopsys: Use baking soda and vinegar if other methods fail
This guy took "The Drano challenge (or it's free)":
http://www.youtube.com/watch?v=PpOkawP0kaM


posted on May 25, 2013, 6:25 pm

-Slow-Shower-Drain

shower-drain.html

log-a-drain

in.com/inthehome/how_to_unclog_a_shower_drain

http://theunclogblog.com/2012/01/how-to-remove-hair-thats-clogging-yo ...

I think that following this thread and seeing how much you have learned should be a lesson for all of us to admit our shortcomings and learn from those around us who have been there and done that. And for the "teachers", remember this is a student who wants to learn and be respectful of that while showing off how much you do know.

posted on May 24, 2013, 7:12 pm
wrote:

A closet snake is only good for toilets. Just type it in google.

You weren't using it correctly. You have to keep the turning handle close to the hole to prevent it from twisting up. When it stops, if you have the handle close to the hole and apply pressure while cranking, it'll make the turn at the joint. Usually.

posted on May 24, 2013, 7:52 pm
On Fri, 24 May 2013 14:12:26 -0500, Vic Smith wrote:

That's probably why the guys in the red vests didn't suggest it then, when I had asked for advice on which snake to buy to unclog a shower.

posted on May 24, 2013, 8:05 pm
On Fri, 24 May 2013 14:12:26 -0500, Vic Smith wrote:
Ah. Thanks for your advice.
That handle was especially interesting because it was offset ever so slightly, which is odd to see in a handle. It's probably that way for good reasons, but it sure was hard to turn, what with me kneeling on the bathroom floor, leaning precipitously over the lip of the shower stall, with door glass and a toilet bowl hemming my (rather large) frame in, such that I could barely move.
It just wouldn't go more than about 3 feet; but, it turns out, that was enough to wind up a good fistful of brunette hair, dipped in a fine black "mud".
I had to cut the hair off the end of the snake. I tried showing my friend the clump, but she just screamed "get it out of here!", as if it was a live rat or something. Heh heh. Ladies are so squeamish.
< light bulb > As a joke, I should have brought one of my dead six-inch long (foot long with the tail) deer mice and pulled
*that*
out of the hole (like a magician with a rabbit out of a tophat).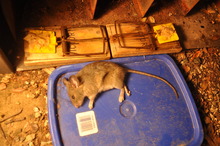 Heh heh ... she would have rememberd
*that*
for a long time!
posted on May 24, 2013, 7:17 pm
I'm not a plumber, but I've sure fought a lot of snakes in my life.
You think gas cans are a problem? They're nothing compared to snakes.
You just keep working at it. The business end of the one I have that looks like yours has a spiral designed to hook onto the crap that clogs drains, You push it in, twist it, with the free end flopping all around, until you can't go any further.
Pull it out hoping you've snared the problem. If there's nothing there, you try and try and try until you succeed. 15 minutes? You're just getting started.
A pro might show up with a powered snake. If you call a pro, you've failed, turn in your DIY badge of honor.
A real impassable point could indicate a broken pipe or solid object. A pro might use a camera.
When I lived in the Bronx we had a cesspool and I inherited a snake with a 2 inch metal ball on the business end and 1/8 by 3/8 inch spring steel. With that baby I could clear about 100 feet of soil pipe.
I can't tell you how happy I was to move out and toss that monster.
posted on May 24, 2013, 8:35 pm
On Fri, 24 May 2013 15:17:03 -0400, Dan Espen wrote:
Yup. The flopping all around part is what surprised me.
I had 47 feet of that 50-foot snake flopping about the shower stall.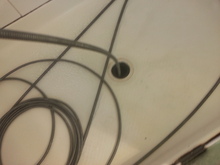 My friend was wondering if I knew what I was doing, but, then, she didn't want to see
*this*
, which was the end result: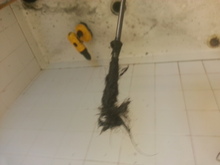 Note: Sorry for the crummy cellphone pictures; I usually use better equipment but I didn't have it with me.
Ah, I wonder if they're cheap enough yet to make it worth while to have a tunnel cam?
It would have been great to see
*what*
was blocking the snakes!
Interesting. A "mace snake".
posted on May 24, 2013, 8:52 pm
On 5/24/2013 1:35 PM, Danny D wrote:

yes, harbor freight has one that's not too much


posted on May 24, 2013, 10:28 pm
Danny D wrote:

Sometimes, the snake reaches a Tee connection and it can't make the turn to continue further down in the pipe.
Sometimes, you can get it to go past where it is hung up by doing the twist routine while pushing slightly on the snake. I think the spiral coiled end can then sometimes sort of thread itself forward and allow the snake to get past the hard turn.
Generally speaking, the snakes that you have were too long to easily work with in the situation that you had. One way to know if the clog is far down in the pipe and not just near the drain entrance is if it takes a awhile with the water flowing down the drain before it starts to back up into the shower or tub. That can sometimes mean that the drain pipe has to fill with water first all the way down to the clog before it backs up into the shower or tub. If it gets clogged right away, as soon as the shower starts draining, the clog is near the drain entrance (and, as others have said, that is where it usually is).
Your prior question about how to twist the snake and not cause it to curl up in the room where you are working is that you have to allow the snake to lay out horizontally across the floor in a fairly straight line and into the next room if needed. That way, the whole snake can turn freely on the floor and that keeps it from getting tangled/curled.
If you go to http://YouTube.com and do a search for "unclog a tub drain" or something similar, you'll see lots of useful videos on how to do it. Many will show the Zip-It or similar cheap plastic hair removal devices and how they drag out big wads of hair like what you discovered.

posted on May 24, 2013, 11:48 pm
On Fri, 24 May 2013 18:28:28 -0400, TomR wrote:

That makes sense, as the 1/4" snake just wouldn't go further than 10 feet. It bunched up, and that makes sense that it would do that at a "T".

In hindsight, I must agree. The clog was less than 3 feet in. I desperately wanted to go deeper, but the most I could go was about 10 feet, and nothing came back hooked on the line when I did.

Now that you mention it, when I had turned on the water initially, the drain pipe filled up within about 15 or 20 seconds (I didn't know enough to look closer at the timing though). In hindsight, the hair clog was probably at the first trap under the house (I assume there are traps in the crawl space?).

Ah, I see. Thank you for answering that question. For a brand new snake, that shouldn't be a problem; but I would think it problematic for the rusty ones on the white carpet.

posted on May 25, 2013, 1:50 am
posted on May 25, 2013, 3:49 am
posted on May 25, 2013, 4:13 am
On Fri, 24 May 2013 20:49:37 -0700, DD_BobK wrote:

My logic at the time was that I had no idea if there were multiple clogs. I assumed that if I went the whole 50 feet, that I would clean out any clogs further down than the one hairball that I had found.
In the end, I was only able to go about 10 feet.

posted on May 25, 2013, 5:29 pm

DDD-
Ever hear of Occam's razor? Do you believe in its value? Or the KISS concept?
When you hear "hoof steps" think horses not zebras. The simplest effective solution is usually the best.
Most drain clogs (esp showers & sinks) occur at VERY short distances.

posted on May 26, 2013, 1:06 pm
Movie was okay.
Book was a lot better IMO.