I guess I could email you a few photos of what I have done. I don't keep a web page anymore.
I can address this intelligently. I use a contractors saw, I have used my USA made Delta for about 6 or 7 years. I also am lucky to use Unisaws at American Sycamore Woodworkers Retreat. I have also used the Dewalt once or twice. So I have a pretty good basis for comparison.
(BTW, this topic has about been beat to death, you might look at archives.)
Your primary question seems to be, what kind (quality) of work can be done on a contractors saw. I can get just as smooth a cut on my contractors saw as I get on the Unisaws, other things being equal. It would be hard to get a direct comparision, I'd have to take my Freud blade out to ASWR to see any differences. But I think that would be a waste of time. I get silky smooth cuts on my saw now. It would be hard to quantify any differences in these saws.
And smooth cuts translate to good work.
A cabinet saw has less vibration, in theory, because of the incresed mass of the trunnion and base. So there may be some small improvement in quality of cut. But I've never noticed it.
I do not feel limited when it comes to power. A cabinet saw has twice the HP of my saw, I'm sure you know this if you have been doing your homework. But for the few times when I have had to rip tough woods thicker than 2 inches, it doesn't bother me to slow down. I can still get the job done on my less powerful saw. Just takes a few seconds longer.
I use a Unifence, many Unisaws use a unifence. I could just as well have a Beismeyer, as do many Unisaws. Not much to compare there. My projects are not limited by my fence. If you want my opinion, go with the Beis. I wish I had, but I don't lose sleep over it.
I can assure you, my quality of work, as regards the saw used, would not improve a bit with a Unisaw or PM66. My quality of life might improve slightly! My wallet might be worse off! My marriage might be worse off (wife bought my Contractors saw for me, I have to keep it forever now, I think.)
To address some other unstated questions you kinda raise-
A cabinet saw takes up less room than a contractors saw. Also true of the Dewalt and the new Jet. You said you have a small shop at this time. The Unisaw is physically smaller. Easy choice there, I guess.
A cabinet saw provides for dust collection. Almost requires it, in fact. I don't give a rats a** about a pile of sawdust behind my saw. But I am in the minority. And I am in a garage. It was different when I was in the basement. I think the Dewalt and Jet also have limited dust collection ability, compared to a cabinet saw.
It is easier to dial in, or adjust, a cabinet saw. You won't have to do this often, maybe never, but it may matter to you.
The contractors saw will be a hell of a lot easier to get down a stair way. Take it down in pieces, assemble when you are down the steps. Than, don't move. A cabinet saw- I don't know how many people I would have needed to get a heavy saw down the steps at my old house. There would have been ropes involved. Maybe a dolly, I dunno.
Flip side of that coin- a cabinet saw weighs more, which contributes to that smooth thing I refered to earlier.
A Contrators saw will run on 120V if you have to, most cabinet saws need 220V.
If you grow bored with woodworking (hey, it happens) you will get a larger percentage of your purchase price back when you sell a cabinet saw. As long as it isn't green. Contraotors saws hold value better than a bench top saw, but not as well as cabinet saws. Too soon to know what will happen with the new generation saws, in that respect.
I'd love a PM66 someday, but given my economic situation (I am Mr. Mom, I do not earn money, and won't for 3 more years) it will be a very long time coming. (Than there is that 'wife present' thing) I am not missing out on much with my contractors saw. I have done some very nice work with it. I am proud of much of the work I have done on it, I am proud to own the saw, and happy with it.
Hope that helps. Man, am I wordy tonight.
-Dan V.
On Fri, 07 Jan 2005 03:31:02 GMT, "Mike W."



I have this saw and have found it to be very accurate. The fence is the same as used on certain models of Delta's Unisaw. You probably will not rip 4" thick oak with it, but other than that it is a fine saw. http://www.deltawoodworking.com/index.asp?e 6&px5 Greg

posted on January 7, 2005, 9:53 am
Well, let's see. I have one of those $400 Delta contractors saw. First project was this: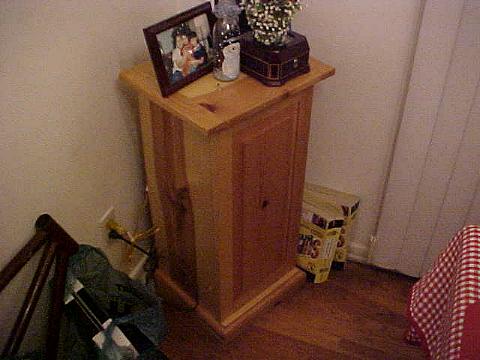 http://www.bunchobikes.com/cabinet2.jpg
then a blanket chest I don't have photos of. Then this: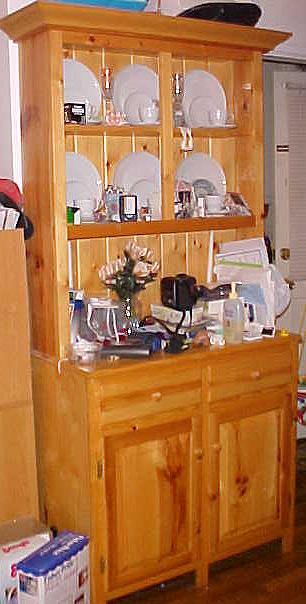 http://www.bunchobikes.com/cabinet.JPG
Lately, it's been raining so no work on the backyard project. So into the shop, to do this last week: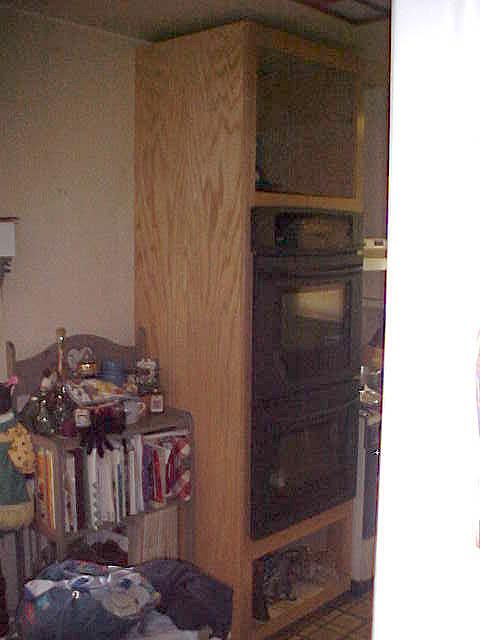 http://www.bunchobikes.com/kitchen1.jpg
Yea, I know. Bad pic. Still need to do the drawer and door. The bakers rack next to it I made before I had the saw. 'Bout 10 years ago or so. I wish I had a better fence but nothin' an accurate ruler doesn't fix. That and an outfeed roller
/ support help with the one man handling of long /
sheet stock.
posted on January 7, 2005, 12:05 pm
Mike W. wrote:

I know this isn't what you asked for, but this is what I do WITHOUT a table saur at all. Though I do have a bandsaur:
Replicas of 15th-19th century nautical navigational instruments:
http://home.comcast.net/~saville/backstaffhome.html
Restoration of my 82 year old Herreshoff S-Boat sailboat:
http://home.comcast.net/~saville/SBOATrestore.htm
Gregg

posted on January 7, 2005, 5:34 pm
Hey, I'd love to have a cabinet saw instead of my lowly Delta contractor II, but really, most of the stuff that Norm makes is copied from things that were made by hand.
--

Larry Wasserman Baltimore, Maryland

Click to see the full signature.
posted on January 7, 2005, 6:02 pm
What you need to do good work with any table saw are 1) a strong, flat table, 2) a straight, accurate fence, and 3) a good blade. The rest of the bits and pieces attached to the saw don't matter very much but you need the ability to raise and lower the blade and the ability to accurately tilt it to any angle up to 45 degrees.
In addition, you need 4) an accurate miter gauge for crosscutting small work, 5) an accurate crosscut sled for larger panels, .6) infeed and outfeed support (tables, roller stands, etc.) for long and/or wide goods, 7) a dado set, and 8-n) various other jigs for tenoning, finger jointing, dovetailing, etc.
The less expensive the saw, the fewer of the first three items you will get with it and will need to supply the tools and/or techniques to fill the gaps.
The last group, 4 thru n, doesn't come with any saw - tabletop, contractor, hybrid or cabinet - and will have to be supplied by you. Most you can make in your shop or you can buy all of them.
I deliberately included a miter gauge in the last group. The devices that come bundled with most saws are junk.

by'
posted.