I quit upgrading my TurboCad at version 10, so I can't speak to version 16. If you'll take that into consideration, I'll echo Swingman. TC is a much more full featured 3D CAD system than SU. As such, I found TC's learning curve somewhat harder to climb but, once climbed, it's more versatile.
A specific item I recall is the dimensioning, formatting and production of shop drawings. I wouldn't call it a "piece of cake" in TC, but it does a fairly nice job. If you need dimensioned shop drawings, SU is somewhat cumbersome, and the dimensioning package isn't nearly as versatile as TC. If you don't need or use shop drawings, then that's a non-issue.
Another specific that I remember TC having the edge of SU is in the category of non-rectilinear sections. The set of curves and 3-d geometry operations, addition, subtraction, etc. is more general with TC. SU makes many assumptions about what it thinks you want to do. Many time, SU is right, but there are times I find myself going from Chicago to New York by way of Atlanta because of those "I know what you want" assumptions.
I'd almost compare the two as similar to a comparison between Visual Basic and C++. Visual Basic (SU) does a lot of things for you behind the scenes that C++ (TC) doesn't. You may not want those things done by default in a particular application, but, if you do, developing the application can be faster in VB/SU than in TC/C++.
I'd like to give you a more detailed, point-by-point comparison, but I'm way non-current both in version and recent experience with TC (and VB and C++ also for that matter). My last use of TC was designing my Gazebo several years ago. It did a fine job with a lot of weirdly shaped, non-square, components. For something of like complexity, I'd reinstall TC and refresh my expertise. For simpler tasks and conceptual modeling of furniture and cabinetry items, my go-to is SU. I'm currently working on an 80x28x20 walnut wine cabinet for my oldest son and SU is the tool I'm using for the conceptual layout and design.
One thing I really like about SU is a wide variety of plugins. One I find very useful is an interface to CutList Plus that exports an input file for Cut List. The SU model has to be made with that in mind, but that pair, CL and SU, does the vast majority of the things I need for my shop projects.
Tom Veatch Wichita, KS USA


Unless those dimensions are in inches, your son is drinking _way_ too much wine! ;)
Will you be posting the SU file online? I'd like to see it. Finished product, too, of course.
R

posted on May 25, 2009, 6:45 am
On Sun, 24 May 2009 22:11:31 -0700 (PDT), RicodJour

I hadn't though about it, one way or the other, but there's no reason not to. It may be a while before it's published since I just started looking at it yesterday when he sent me the dimensions (yes, inches, BTW) We've a ways to go before the model looks like much more than a coffin standing on end. I'll have to take some pictures of finished walnut to use for the SU material image.
The walnut was given to me by a neighbor. He's a building contractor who was remodeling a house for some physician. They stripped out a bunch of paneling and was hauling it to the dump. On the way, he stopped by my house to see if I might want to try to salvage it.
The bed of his pickup was loaded with 3/4" walnut T&G boards about 6" x 9 feet. After ripping off the damaged edges and planing down the reliefs on the back of the boards, the actual surfaced dimensions calculated out to about 120 board feet. Would have been more except they didn't take any pains to preserve the wood while they were tearing it out and quite a bit was too damaged to be worth trying to save. Still, some pretty boards that were headed to the burn pile, didn't quite get there.
Tom Veatch Wichita, KS USA

posted on May 25, 2009, 3:41 pm
Glad to hear it's inches - I was worried about his liver. ;) Obviously there's no rush on the thing, but I would like to see the process as it moves along. Pixels to pouring as it were.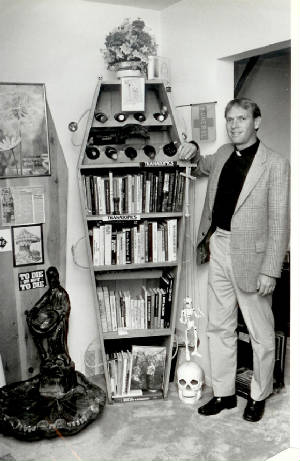 http://www.johnlabraham.com/sitebuildercontent/sitebuilderpictures/.pond/Coffin1982.jpg.w300h461.jpg
http://www.coffinitup.com/kitchen/uppers.htm
I'm guessing the drool coming out of the corner of your mouth tipped him off that you would be willing to save him the trip to the dump. I think that neighbor is a keeper.
Damn! A literal drive-by gloat and I walked right into it! You are the suck meister!
R
posted on May 25, 2009, 6:26 am

All of my projects are fairly simple and for my own use. I watched the dimensioning tutorial. I think it will be good enough for me.

A lot of software is going that way lately. It's great when it guesses correctly. Not so much when it doesn't, especially if it isn't nice about letting me take over.

Thanks for the insight.

posted on May 25, 2009, 7:46 am

As a point of reference, the latest 2D - 3D TurboCAD 16 communicates well with sketchup. It can import sketchup files and export to sketchup. Sooooo. if you need to use a CAD program later, you can buy a new TurboCAD 16 2D - 3D for about $130 list. I am sure some one will give you a little better price.

posted on May 24, 2009, 3:10 am
Prof Wonmug wrote:
I suggest trying the free version of SketchUp. If you find that it doesn't do everything you want, then find a package that can at a price you're comfortable with.
For getting started, free should be fairly comfortable. :)
--
Morris Dovey
DeSoto Solar

Click to see the full signature.
posted on May 24, 2009, 3:15 am
Morris Dovey wrote:

...and get the sketchup cutlist plugin:
http://lumberjocks.com/daltxguy/blog/5143

posted on May 24, 2009, 3:26 am
Doug Winterburn wrote:

...and with the sketchup cutlist plugin, you don't even have to put all the pieces in their proper place - just drag the appropiate number of each part to the layout screen, select all of them and render the cutlist.
Just did this for the Rockler Murphy bed with bookcases. Saved a few sheets of expensive ply.

posted on May 25, 2009, 6:29 am
On Sat, 23 May 2009 20:26:19 -0700, Doug Winterburn

I'll get that as soon as I have a sense of the program. I've spent a couple of hours watching video tutorials and drawing simple objects. I think this going to be a very useful tool.
Thanks

posted on May 25, 2009, 7:40 pm
I was off the wreck for a while and I came across this thread.
In case anyone is looking for something more, Carrara 6.2 Pro, and Hex v? can be gotten for about $20 at http://www.daz3d.com/ (but their web site is down today, so I can't post a link to the exact product). The two are included on the CD ROM of a book they are selling for $20.
Carrara is a 3d animation program used to make photo-realistic or cartoon animations, or just pretty pictures. But it also includes a vertex modeller which is more than sufficient for doing CAD design. The only issue is that there is a quite steep learning curve to it. I personally model with Cararra, because I'm used to the interface, but from what I've heard, Hex is even better, and is likely easier to learn. (There's a learning curve to both of course). Here's some preliminary designs of a table I designed with Carrara (it was REALLY helpful for this project -- for planning the length and dimentions of the legs, slides etc. My first few models ended up having pieces colide with each other when the table folded/unfolded, but after a few adjustments I got a working model and I was able to take my measurements directly from the program).
http://www.ulvr.com/john/animations/XTableDesign.jpg
http://www.ulvr.com/john/animations/XTable4.jpg
Note: My final table design is actually a bit different than the picture -- I reduced it to having a single gear, and reduced the number of pieces significantly. I also got VectorStyle Plug in since then, and can publish much nicer diagrams, but I'm at work, and my files are at home, so I can't post anything except what's already on the web.
John