RWM wrote:
After last playing with any kind of wood tools 15 years earlier, I got myself a wife, a house, a few pets and some kids. Looking at furniture prices, at the time, I told myself that I could spend less and make something of better quality myself. So I bought myself a contractors table saw. That's all I had besides the usual hammer and nails. Not even a hand saw! With it, I made this, my first piece. A cabinet to hold a bunch of phone books.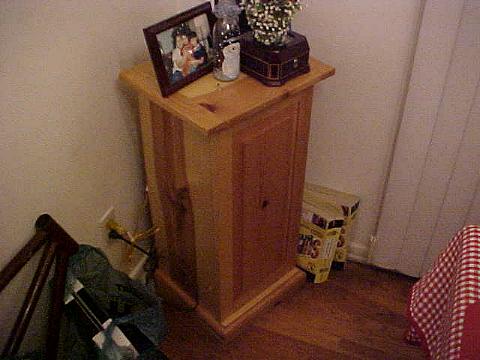 http://www.bunchobikes.com/cabinet2.jpg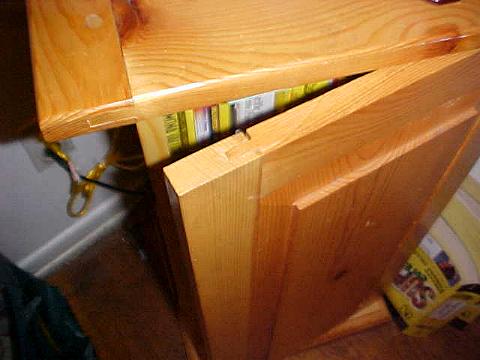 http://www.bunchobikes.com/cabinet3.jpg
. As you can see from the close-up, I had a few saw blade hiccups. Especially, that little gap on the backside of the joint. But three kids, two dogs and four cats later, that door is still nice and strong! Not so bad! I have since "bulked" up on the wood tools and make stuff a little prettier! But this very first effort, all done on that contractors table saw.
did you use stub tennons or haunched mortis/tennons. Tony D.


posted on February 5, 2004, 3:27 pm
Never mind, I should have read the rest of the thread. Sounds like stub tennons. That will work for what you want to do. Thats all I used for this.
http://www.imagestation.com/picture/sraid94/pf0fcb2ba684714db603a4fe92848a121/fa37fba6.jpg
Tony D.
posted on February 5, 2004, 7:21 pm
Yup, stub a dub, dub!
Anthony Diodati wrote:


posted on February 5, 2004, 9:27 am
this is all great advice and thank you all. but this is my first attempt at anything that would resemble real woodworking. all my other projects have been very easy projects. I have the confidence for the raised panel but i don't think i can handle a mortise and tennon just yet. besides not having the tools i am not yet at that point in woodworking yet. if you got any other advice i would appreciate it as much as what you have already given me Thanks Dave

posted on February 5, 2004, 10:17 am
Mojo wrote:

Have a look at those photo links I posted above. The mortise actually ends up being the same groove that your panel will sit in. Right? You gotta have a groove in your rails and stiles to sit the panel in. Well, take your rails and buzz the proper amount off the ends to make a tenon that will fit in the "groove" or mortise. That's the easy part. If your ready to tackle a raised panel on your tablesaw, the rails and stiles will be no problem!

posted on February 5, 2004, 6:29 pm
This month's Canadian Woodworker shows them doing it at 90 degrees. They only raise the blade 1/32 at a time, but this still sounds scary to me.
Joe


posted on February 5, 2004, 3:00 pm
You mentoned mitering the frame members. You could so that then make a simple jig the spline the miters. Its just a sliding fixture that rides your fence and allows you to cuts slots through the end of the miters. Then you glue in a spline and it makes a good strong joint. Attractive too if you use contrasting woods. Then again theres always *gulp* dowels..............Whew I cant believe I said that out loud.........
Jim


posted on February 5, 2004, 5:47 pm

Dowels are great - when you forget to allow the extra length for the tenon you originally meant to use (of course, that assumes you noticed your mistake before cutting the mortise).
John

posted on February 5, 2004, 3:12 pm
Stub tenon joint, loose tennon joint, mortise and tenon joint, saddle joint, spline joint, mitered spline joint, half lap joint.
--
Mike G.
snipped-for-privacy@heirloom-woods.net

Click to see the full signature.
posted on February 5, 2004, 4:30 pm
If you don't mind some endgrain showing on the edges of the door frame, how about a bridle joint?
--

Larry Wasserman Baltimore, Maryland

Click to see the full signature.
posted on February 5, 2004, 6:49 pm
Thanks some really great ideas here. I see what you mean by the tenon going into the groove for the panel. that seems a lot easier than the standard mortise and tenon for me. I also like the idea of the spline joint too. Not quite sure what the bridle or saddle joint is so i quess those are out. I am making this out of oak so theres lots of possibilities of a contrasting wood on this one. I'll let you guys know what i decide to do and post a picture when done. Thanks again for all the help. Thanks Dave

posted on February 5, 2004, 7:55 pm
Saddle/bridle joint (and bridle is the more correct name. My error) is similar to the mortise and tennon joint. The tenon is the full width of the board and the bridle is a U shaped mortise or, if you will, notch in the stile (no top) the same length as the width of the rail that allows the rail to slip down and into it.
A good strong joint with lots of glue area but you end up with end grain showing on the sides and top.
And I forgot to mention the mitered half lap joint. I knew there was one I forgot. The plus with the mitered half lap is that, unlike a full half lap, there is no end grain showing.
--
Mike G.
snipped-for-privacy@heirloom-woods.net

Click to see the full signature.
posted on February 6, 2004, 4:41 am
There is a really good article in Wood magazine, march 2003- issue 147, about making shaker style doors with only a tablesaw and dado blade set. Page 67-69. Scanner down right now. You may be able to get info from Wood magazine(www.woodonline.com). If not I will get on it first thing back from vacation. It simply uses the table saw blade to saw an angle where normally a raised panel cutter would cope out the panel. Good luck. Lyndell


posted on February 6, 2004, 5:23 am
I hate to lay out money for cutters also but in the long run I think they are worth it . I bought as et of stile and rail cutters for my shaper 15 years ago and have not regretted it since. I got the shaper set from grizzleguts and basically I added the cost to a fairly large job. [I used to price things years ago in terms of how many double scotches over ice would that be ]. the set came with an extra cutter so that I could do a glass groove. the set is so versatile that I have made 13/8" interior doors where the door panels are raised both sides, whole raised panel rooms of stiles and rails, to some fairly delicate 3/4" doors for a corner cabinet. All in all they were well worth the initial outlay........mjh
--



"Lyndell Thompson" < snipped-for-privacy@ix.netcom.com> wrote in message
news:KVEUb.12042$ snipped-for-privacy@newsread1.news.atl.earthlink.net...

Click to see the full signature.