On Fri, 20 Jan 2012 11:49:23 -0800, SonomaProducts.com wrote:
Thank you for the quick response and analysis. Your breakdown is a very good estimate. The finished cross members would be probably from a 5/4" and net out 1 1/16" x 1 1/16".
I'm concerned with the "x" cuts on the end of the pieces.
Here's a closup of the X cuts: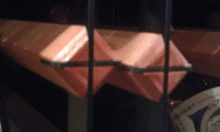 Here's another view of the x-cuts from overhead: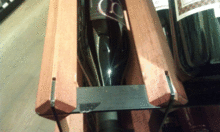 They need to be cut exact so they flush out with the metal. How would you make the cuts on the end of the pieces. Would you use a small table saw. Is that the best way or is it too dangerous to cut it standing up?
Also, someone suggested either anodized or powder coated aluminum. They feel that spray paint would eventually wear off.
Which way do you guys suggest?
Thanks for the help!

The X cuts would be easy with a tenoning jig or some similar dedicated hand built jig.

posted on January 21, 2012, 3:19 pm
On Fri, 20 Jan 2012 12:49:23 -0700, SonomaProducts.com wrote (in article

I agree with SP on his detailed breakdown. Nothing to the construction looks difficult, just very repetitive cuts. Fixtures for the crosscuts and batch slotting the metal would speed the process significantly although I think the metal work would take longer in the Prep-n-Paint stage.
-Bruce

posted on January 21, 2012, 11:24 pm
On Sat, 21 Jan 2012 08:19:50 -0700, Bruce wrote:

I think the aluminum in the front is anodized (gold or black).
And, in the back, it's just metal wire cross members that are not visible from the front so they are NOT anodized.
I've never anodized anything. Do you think paint would stay on over time?

posted on January 20, 2012, 6:35 pm

The plan is kind of vague. It looks more like a store bought than custom (to me) Most cabinet shops would be able to build this type of thing but not all would be interested in doing work like that. Find a smaller shop and you should be able to get a second price. Of course expect a custom version of a store bought type to be a 3x as much, et least.
Maybe look at http://www.wineracksamerica.com/ or some of the other 8,390,000 (literally) results from a Google "wine racks" search.

posted on January 21, 2012, 3:11 am
On Fri, 20 Jan 2012 10:35:21 -0800, SonomaProducts.com wrote:
These photos are for a Kedco Brand called KM Series Wine Merchandiser.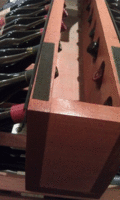 Kedco should have a price quote for me by Monday. Do you have an idea of who can second source this exact model?
BTW, what wood does this look like to you?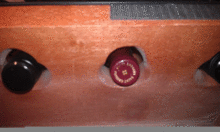 I'm thinking it looks like Basswood stained to a Cherry color.
If I have it built myself, and since it's only about 18 BF, it might even pay to go with a different wood that has a darker/richer look. The better wood may offset the extra staining labor.
Any suggestions?
posted on August 28, 2012, 1:00 am
On Friday, January 20, 2012 9:11:11 PM UTC-6, Chuck Banshee wrote:

Just saw your posting - we owned a wine store and still have 4 of the Kedco racks to which you are referring. If you are interested, please respond to this post.