On Sat, 08 Jun 2013 20:59:08 -0700, DD_BobK wrote:
You will recall, the question is how to decide on QUALITY bearings.
So far, the ABEC/ISO rating of either ABEC1/P0 or ABEC3/P6 seems to be a good aiming point for
*tolerance*
; but that says nothing about materials.
In addition, there appears to be a radial play standard, which specifies the internal clearances (e.g., the metric standard for deep-groove bearings C3 or NPB Code inch standard P25). http://www.astbearings.com/ball-bearings-radial-play.html
The problem, of course, is obtaining this information. Luckily some supply houses specify both the tolerance & radial play: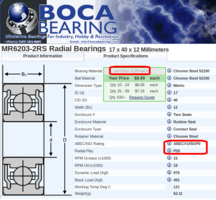 The steel to aim for should be at least SAE 52100 chromed steel, which is a through hardening, fine grain, Martensitic steel, although a variety of stainless steels is an option (as are ceramics, but not typically for a pool pump motor bearing).
Note that most stainless steel bearings will still rust, and, that SKF says they have a lower load capacity; so, I'm not going to aim for stainless steel materials.
It seems buna-N rubber seals are a fine material for pool pump applications, although Viton is available.
And, it might be important in some applications to have a H1 NSF Certified food grade grease, but not in mine (SKF uses the suffix VT378 for such bearings).
http://www.skf.com/group/products/bearings-units-housings/ball-bearings/deep-groove-ball-bearings/stainless-steel-deep-groove-ball-bearings/index.html http://www.abbottball.com/materials/stainless-steel-balls-302.php